| | |
| --- | --- |
| | |
| | |
| --- | --- |
| | |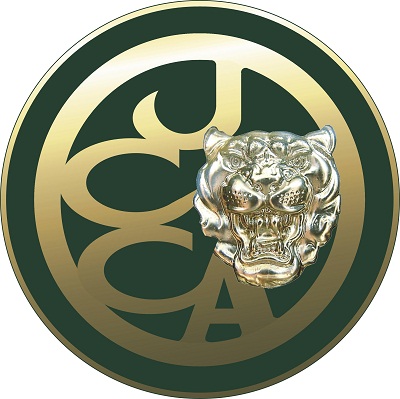 2011 Saloons in the Old West Concours d' Elegance
Stan Elman wins 1st place and Best Exterior Class
Classic Showcase is proud of the 1966 E-Type Jaguar we restored, which is now owned by Stan Elman. Stan received a perfect score of 100 points, winning 1st place, as well as Best Exterior. This win rounds out Stan's 2011 year with two consecutive 100 point scores, and three 1st place trophies! Congratulations Stan!
The 2011 Del Mar Concours
Ken and Ann Smith Win Best of Show
Tom Krefetz wins Best of Jaguar Class
The Del Mar Concours was a success as the Del Mar Race Track Paddock was transformed into an exhibit for viewing some of the world's most sought-after collectable classic cars. The event took place on Sunday morning in San Diego, and is known as one of the most prestigious Concours of the year. Ken and Ann Smith, good customers and collectors, are the proud owners of a beautiful 1936 Delahaye 135 Convertible, which won best of show! We are proud to announce Tom Krefetz, with his 1959 Jaguar XK-150S FHC, won first place in the Jaguar class, and his 1966 Jaguar XKE Series I FHC won second! Please note that both of these cars were shown in the same class. Classic Showcase is proud of restoring these two award-winning vehicles.
The 2nd Annual Del Mar Concours was a great success as the Del Mar Race Track Paddock was transformed into an exhibit for viewing some of the world's most sought-after collectable classic cars. This was a 2 day event beginning Saturday October 15th with The Celebration of the Motorcycle. The Concours d'Elegance was held on Sunday, and is known as one of the most prestigious Concours of the year...Click here for more
The 2011 Santa Barbara Concours
Ken and Ann Smith Best of Show

Ken Smith's 1936 Delahaye 135 Competition Disappearing Top Convertible, Figoni-Falaschi, was First in Class and Best of Show at the Santa Barbara Concours. It was a nice win, as there were a lot of very high end quality cars of all makes at the show, including two previous Pebble Beach winners in the same class.
2011 Jaguar Club Wine Country Concours
The Inland Empire Jaguar Club (IEJC) hosted their annual Wine Country Concours, in early October, at the grounds of the Historic Idyllwild Inn located in Idyllwild, CA. Many Jag lovers and club members from San Diego, and as far away as Salt Lake City came to attend, making this Concours a great success! Along with the natural beauty of this historic site, the IEJC entertained participants with a social cocktail gathering for those that arrived on Friday, to get the weekend started off right. It was feared that the weather would be cloudy and rainy for the day of the Concours, as so many SDJC members had encountered heavy rain on their drive up Friday afternoon, and some light rain in Idyllwild. Fortunately, the sun peaked through early Saturday and the weather turned out to be rather pleasant and warm...Click here for more
The 32nd Annual San Diego British Car Day

The 32nd Annual San Diego British Car Day was held at Liberty Station on Sunday October 2nd, 2011. This year honored the 50th anniversary of the E-Type Jaguar. The celebration included many British vehicles, including 19 Jaguars. With an amazing variety to see, the show was well attended by motor enthusiasts and the general public as well. Many vendors surrounded the show bringing great foods, products and services for everyone to enjoy. The Cameron Highlanders Pipe Band spiced up the day with bagpipe and drum music, which also escorted some of the winning vehicles through the park to receive their trophy. Overall, the event was very well organized and fun for all!!

Jaguar Club of Central Arizona
39th Concours d' Elegance 2011

The Jaguar Club of Southern Arizona 39th Concours d' Elegance was held on October 29, 2011 at the St Philips Plaza in Tucson, AZ. The exciting weekend began Friday with a Halloween themed party on the lawn, near the pool, at the Windmill Inn. So many people got in the spirit and came in costume!!! Saturday began the Concours d'Elegance at the St Philips Plaza...Click here for more

Jaguar Club of Central Arizona
Saloons in the Old West

The Saloons in the Old West Concours d' Elegance on November 12th was held in downtown Chandler, AZ. The Jaguar Club of Central Arizona did a great job and was very hospitable. Several people traveled from California and Utah, as well as other parts of Arizona, to attend the event. We stayed at the San Marcos Golf Resort, a Crowne Plaza property, which is a very nice destination hotel with many amenities for all...Click here for more
Barrett-Jackson Las Vegas 2011
Barrett-Jackson held their 2011 Las Vegas auction on September 22-24 at the Mandalay Bay Resort and Casino in Las Vegas, Nevada, resulting in gross sales in excess of $24 million.

1964 Ford Fairlane 500
Sold for $700,000

2012 Camaro ZL1
Sold for $250,000

2009 Raptor GTR Prototype
Sold for $240,000

RM Auctions Hershey 2011

It's a perfect place to highlight the unusual to the legions of collectors and restorers who've spent the week wandering the swap meet field looking for Mason connecting rods, and Owen Magnetic transmission gears. Their mindset is to see the potential in every tired old beater, scruffy barn find and used old restoration. Hershey is the place to put them in front of a receptive audience, and that's what RM does.

1932 Hupmobile Series-I 226 Coupe
Sold for $71,500

1903 Oldsmobile Model R Curved-Dash
Sold for $55,500

1923 Ford Model T Whites Snowmobile
Sold for $27,500

RM Auctions London 2011

RM Auctions staged its fifth annual Automobiles of London auction on October 26, 2011 at Battersea Evolution in London, resulting in £13.3 million ($21,413,000) in total sales, and 79% of all lots sold. RM Auctions offered approximately 100 automobiles, and 25 motorcycles at the single-day London 2011 auction, with the top sale going to a matching-numbers 1958 Ferrari 250 GT LWB Tour de France Berlinetta, chassis number 1039 GT.

1958 Ferrari 250 GT LWB Tour de France Berlinetta
Sold for £2,240,000

1965 Ferrari 500 Superfast
Sold for £644,000

1972 Alfa Romeo Tipo 33/TT/3
Sold for £588,000

What do you recommend in regards to car covers?

- Saul Fuentes, Washington

If you will be using your car cover just for coverage while in the garage, then a light cotton or flannel car cover is fine. However, if you own a roadster with a cloth top, I do not recommend flannel because it will get lint on the top. You can remedy the lint issue by putting a plastic cover on the convertible top, then put the flannel car cover over that. We recommend you keep the convertible top up when not being driven to keep the back window wrinkle free. I do not recommend using outside storage, but if that is what you have available then you will need a really durable, heavy duty car cover to protect against water and other outside elements.

Tom, what are your recommendations for my exhaust manifolds on my E-type? Should I go with porcelain or heat treated?

- Chris Skye, Denver Colorado

This is really a personal preference. Porcelain manifolds are factory correct for the car, but have a tendency to crack during hot usage, and need to be corrected every few years. We have heard there is a way to treat the manifolds in the re-porcelain process to correct the cracking issue when they are hot, but we have not experienced the restored porcelains in this process to know whether this is true or not. Heat treated manifolds have proven to last much longer aesthetically, and hold up very well, but are not factory correct. Both choices will perform well mechanically; the difference is strictly the manifold finish, as they have the same durability and mechanical ability. Another option would be to keep two sets of manifolds; one for showing the Jaguar and one for driving.

How do I determine if a restoration company is reliable, and a good choice for the restoration of my Jaguar?

- John Wilson Louisville, Kentucky

There are several factors that need to be determined before choosing your restoration company. You want to check their creditability with the local Jaguar Club, suppliers, and on the internet. Don't always go by pricing when making your selection. The restoration of your Jaguar is a big project, and you need to select a company that understands your car, has the facility to render the services you require, and have performed these services many times before. You always want to feel comfortable the price they quote can be locked in, or have an understanding on any additional pricing that might accrue over their initial quote. Look to see if in the past their work meets with the work you are looking to have done. Lastly, check references. The restoration process of your car should be happy, timely with good communication, and you having an understanding of services that are going to be provided.

Why are classic cars going up in value when the economy is not?

-John Reed Springfield, Ohio

Supply and demand is a big cause of this, but there is a limited amount of quality classic cars for sale in the world wide market. The collector/buyer today is very discerning to quality and having the best. Great cars are bringing the highest value. Average, and below average cars, are not doing so well. The collector/buyer is very knowledgeable and they are making the market what it is because they have the money to purchase these cars, thus driving the prices higher.

What is a "hard reset" and how is it done?

- Mike Weber

- A "hard reset" is basically a clear down electronically of the computer control modules on the vehicle - which clears out fault codes that are stored (that puts the fail safe message / light on)

This can usually be easily done by a disconnection of the car battery for an hour at the most to allow this to happen.

The trouble with doing that this way it clears all memory settings on the car of all the modules such as windows, seats, sunroof, radio etc ...

Its a better idea to have the car plugged into a suitable diagnostic machine - in the OBD diagnostic socket, and then the fault code is cleared that relates to that specific fault that is causing the fault message on the dash...

But yes it can be done either way ... The advantage though with having the car connected to a diagnostic machine to have the job done is, it will detect any other fault codes that may be present and they can be dealt with at the time and the machine can be used to reset computers / adaptations on the car etc to ensure proper running of the engine management systems etc...

So I would recommend the latter method be used for a "proper job".

Useful Information:

Deciphering Tire Codes

Tire codes can be very confusing, so we have written up a little cheat sheet to help you better understand what your tire is telling you. Having all the correct information will ensure you can take the best care of your car as possible. Some of this information may be located on the inside wall of the tire.

"Temperature A" = How well the tire resists heat. Best= A Worst =C

"95H" = the "H" is the code for tires maximum safe speed when properly inflated and in good condition. Examples: S = 112 MPH / T = 118 MPH / U = 124 MPH / H = 130 MPH / V = 149 MPH

M+S = Severe snow conditions. (Severe snow conditions mean you must have the snowflake / mountain logo next to M+S.)

The "89" in the code is the maximum load rating index. Typical range is 75-100. Higher #'s means the tire can carry more weight. The amount of weight noted is in small print elsewhere on the tire.

Treadware 220 = How long the read should last. Example: tread rated 220 should last twice as long as tread rated 110. Index doesn't equal specific miles of wear.

Traction A = How well the tire stops on wet roads in government tests. Best = A /Worst = C

Max Press 35 PSI =Maximum air pressure when tire is cold.

DOT MAL9ABC0800 = Letters after DOT indicate plant where tire was made. Example-VD is the code for Firestone's Decatur, Illinois plant. (Side note-Wilderness AT tires made there from 1996-1999 are included in a recall)

Final digits of the manufacture's code tell when the tire was made: 0800 on this example means eighth week of 2000.

P215/65R15 = "P" Stands for Passenger vehicle; 215 stands for width of tire in millimeters; 65 stands for ratio of sidewall height to tread width. Range: 35-80. Higher numbers mean a smoother ride but sloppier handling. Lower numbers mean a harsher ride but crisper handling. "R" stands for radial construction. 15 refer to the wheel diameter in inches.

"Sidewall 2 plies tread 4 plies" =Number of plies (layers) of material making up the tire.

Dates

Event Description

December 29, 2011 - January 1, 2012

2012 San Diego International Auto Show

San Diego Convention Center San Diego,CA

January 14-15, 2012

Phoenix Classic & Exotic Car Auction
Auction Starts on Saturday and Sunday
at 10:00 AM
Gates open at 8:00 AM.

January 9 - 22, 2012


North American International
Auto Show
January 9-22, 2012

Detroit, MI USA

January 11 - 12, 2012

Bonhams Las Vegas Motorcycle Sale Imperial Palace Hotel

This year was the inaugural sale for Bonham's Motorcycle Auction and it was a resounding success! Come see what year two brings for this great auction house.

January 12 - 14, 2012

Mid America Auction Las Vegas
South Point Casino

The auctions show from 150 up to 600 vintage motorcycles.

January 13 - 14, 2012

Auctions America by RM
Las Vegas Premier Motorcycle Auction
Rio All Suite Hotel and Casino

Providing a 'must attend' weekend for motorcycle enthusiasts, over 400 classic two wheelers
are expected to cross the podium during the multi-day event. Notable entries include a selection of very rare, early bikes from the renowned Jerry DeMille Collection including a 1911 Wagner; a 1911 Sears Single Cylinder; a 1910 ½ Yale Single Cylinder; and a 1929 Cleveland. In addition to the auction, Auctions America will host an exclusive motorcycle seminar on Saturday, January 14, 2012.

January 15-22, 2012
January 18-22, 2012

Russo and Steele in Scottsdale

January 19, 2012

Bonhams is delighted to announce the inaugural Scottsdale Sale in January 2012. We have teamed up with the AAA Four Diamond Resort Westin Kierland Resort & Spa in the heart of Scottsdale for what will be a truly memorable occasion.

January 19 -20, 2012

RM Arizona Auction

January 20, 2012

Silver Auction

Silver has skillfully established a solid reputation for auctioning affordable collector cars in this January-in-Arizona extravaganza. Silver's auction continues to grow each year because it is filling a much-needed auction alternative. Thousands of buyers and sellers want an auction where they can buy and sell in an arena that they are personally comfortable in. Silver provides that alternative for the greater Phoenix area since 1992. Silver's Fort McDowell auction offers real buyers and sellers, real cars and real deals.

January 20-21, 2012
February 4, 2012

Ball Bearing Breaker Challenge Rallye

9:00 am Grossmont Center

Ball Bearing Breaker Challenge Cup Rallye is hosted by the San Diego Jaguar Club. What a great excuse to take your British car out for a drive. An assortment of MG's, Triumphs, Jaguars, Healy's, Land Rover, A35, NSU and Morgan will takeoff from Grossmont Center on a beautiful winter morning.


February 17-26, 2012

We invite you to experience the 5th annual Desert Classic Concours d'Elegance at the legendary Westin Mission Hills Resort & Spa in Rancho Mirage, in the greater Palm Springs area.

THE DESERT CLASSIC CONCOURS VINTAGE AND HISTORIC RACE
Friday, Saturday and Sunday, February 17, 18, & 19, 2012
AT CHUCKAWALLA VALLEY RACEWAY, Indio, California

TOUR CLASSIQUE
FORMAL ROAD TOUR FOR SELECT ENTRANTS FROM CONCOURS
Friday and Saturday, February 24 & 25, 2012

THE DESERT CLASSIC CONCOURS d'ELEGANCE
Sunday, February 26, 2012
At the Westin Mission Hills Resort & Spa, in Rancho Mirage, California. In the heart of the Palm Springs valley.

February 18, 2012

Surf and Turf

Scenic inland drive hosted by the LA Club

February 24-26, 2012

Tucson British Car Roundup

This year's Roundup will be a bit different. The three most popular activities in our club are driving, eating and socializing, so that's what the 2012 Roundup will be about. Plans so far include a Friday drive to a winery for lunch, Saturday drive to a special destination and lunch, Saturday dinner, and Sunday morning farewell breakfast.

February 24-26,2012

Held annually at the Atlantic City Convention Center, the Atlantic City Classic Car Show and Auction is the East Coast's largest classic car show & auction! Over 60,000 enthusiasts and collectors are expected to browse, buy and admire this premier collection presented by GPK Auctions, February 24 - 26. Over 1000 collectible cars will be available for sale all on one floor. Catch All the Action! See the Car of Your Dreams!

February 23-24, 2012
February 24-25, 2012

Located near West Palm Beach, Florida, Bob and Paul Milhous have assembled one of the world's most admired and extraordinary private collections, encompassing everything from valuable mechanical musical instruments to rare and important automobiles to a wide variety of Americana and collectibles. RM Auctions, in association with Sotheby's, is delighted to present this world-class collection at auction. It is one of the world's most notable assemblies of fair and dance organs, orchestrions and theatre organs.
More Info


March 6-14, 2012

Vacation in Paradise, Jaguar Extravaganza, call it what you want, but with the A.G.M. and Western States combined in one event, it will likely be the largest convention in J.C.N.A. history. Meet old friends and make new ones!

March 9, 2012

Racquet Park, Omni Amelia Island Plantation

March 10, 2012

RM Auction

Amelia Island

March 9-11, 2012

Held annually in association with the Amelia Island Concours d'Elegance, the Amelia Island sale is always eagerly anticipated, attracting serious enthusiasts from all parts of the globe. The associated Concours takes place Sunday, March 11th, and with the pristine coastline of northeastern Florida providing the backdrop for the exceptional motor cars on offer, there is something for everyone at this celebrated event.

March 16-18, 2012

Greater Fort Lauderdale/Broward
County Convention Center
1950 Eisenhower Blvd.
Fort Lauderdale, Florida 33316

April 1, 2012

The 8th Annual La Jolla Motor Car Classic presented by the La Jolla Historical Society moves its show from the month of January to its new date on Sunday, April, 2012 from 9:00 AM to 3:00 PM. The Ellen Scripps Browning Park will play host again to this year's show overlooking the beautiful La Jolla Cove and featuring over 150 exquisite automobiles being judged in over 30 specialty car classes.

April 19-21, 2012

Gran Concurso De Elegancia Jaguar Club Mexico

Las Caballerizas, Dos Rios, Huixquilucan, Estado de Mexico Every year we host our annual Concours which brings together 500 cars from the most important classic Car Clubs, plus 80 % of all Automotive Manufacturers from Mexico. Witness some of the most important new car market releases while at the Concourse. If you haven't been to a venue of this type, it is highly desirable that you do so.

April 21, 2012

Jaguar Club of Florida Concours

Route 46 Entertainment District , Sanford
Building on our long tradition of holding our shows at unique central Florida sites, we have chosen the Route 46 Entertainment District in Sanford, FL with it's historic vintage automotive theme for our 2012 Concours location. This venue is often called the car enthusiast's dream, and it's sure to provide an incredibly scenic backdrop for our Jaguars!

May 4-6, 2012

Guests will find themselves in a virtual oasis of luxury. Smooth jazz will fill the air while fine wines and festive cocktails are served from multiple bars. Exciting culinary delights will be offered as attendees walk through and enjoy the incredible display of exotic cars, motorcycles, watercraft and luxury lifestyle products and services.

May 5-6, 2012

Saturday, May 5

8:00 - Cars and boats must be in place.

9:30 - Judging of cars and boats will begin.

10:00 - The Concours opens to the public - People's Choice Ballots given to spectators for People's Choice Awards.

3:30 - Presentation of Awards to boat owners - Poolside

5:00 - Concours closes to the public

Sunday, May 6

9:00 - Concours opens to public

1:00 - Presentation of Awards to car owners

4:00 - Concours closes to the public

May 6, 2012

The Greystone Mansion Concours d Elegance

The event is held in conjunction with the Friends of Greystone a non-profit organization, with a portion of all proceeds going toward the ongoing preservation of the Estate. Greystone Mansion is on the National Register of Historic Places.

June 7, 2012

Jaguar Association of Central Ohio
40th Annual JACO Concours

Dublin Metro Center , Dublin
Join us for our 40th annual Concours d' Elegance in conjunction with the Arthritis Foundation 30th annual Classic Auto Show and Cruise-in. Cars galore and fun for the whole family.

June 8-10, 2012

"The highlight of the weekend, The Elegance is modeled after the finest of European and American Concours d'Elegance. The Elegance is an automotive garden party featuring the world's finest collector vintage and antique cars, arrayed around the manicured formal gardens of The Hotel Hershey. Car owners, and those who adore their cars, gather for a day of mutual admiration and relaxed camaraderie while special guest judges review and critique the participants' cars."

July 22, 2012

San Diego Jaguar Club
48th Annual Concours dElegance

Spanish Landing Park , San Diego
The San Diego Jaguar Club is hosting its 48th Annual Concours at beautiful Spanish Landing Park. Bring a picnic and enjoy the venue.
Our Associates
1-888-CLUBJAG (258-2524)

1-800-452-4787

Toll-Free:(800) 444-JAGS (5247)

International: (805) 544-7864

1-703-321-2111

1-800-328-0444

1-800-221-3936