1964 Fiat 1500 Cabriolet
Specifications

Stock:
FI64-911
Current condition:
DRIVER
Performance:
4cyl, 1481cc, 8.8:1 compression, Weber lever carburetor
Transmission:
4 speed manual
Suspension:
Semi-elliptical rear suspension
Color exterior:
Red
Color interior:
Tan/ Black with Black Soft & Hard Top
Features:
coach builder Pininfarina, factory hard top and aluminum engine
Mileage:
91,850 miles showing
Wheels:
Steel Wheels
Tires:
155 SR 14 Z X
Brakes:
Servo disc front, drum rear
Vin #:
028911
Other 1:
Rear wheel drive
Other 2:
Black Factory Hard Top & Original Jack
Other 3:
Original Owners Manual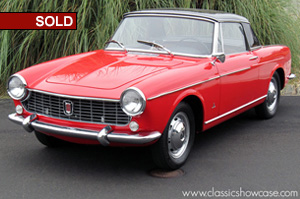 Description
SALE SPECIAL! Please click here for price. This Pininfarina designed Fiat is a spectacular original example that has held limited ownership since new; it was originally purchased new in Barcelona, Spain but not imported to the U.S. until 1992. It's been serviced on a regular basis and has been kept in original stock condition. The body & paint are in excellent condition with no rust; the doors, hood, and trunk lid all fit well. The 1500's interior features plush carpeting, original steering wheel, instruments, gauges, and body emblems. Under the hood the 1500 is complete & tidy, with a properly running engine. A sporty, fun, collectable and economical classic that would make a great addition to any collection, or for the first-time collector which can be enjoyed with the top down, or with the soft top, or rare hard top - all included. This Cabriolet is ready for the road, and includes documentation of work performed, service records, and other information for its new owner.

View a brief YouTube pictorial overview video of the Fiat here: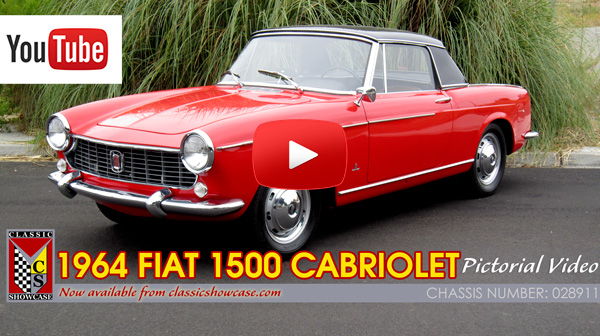 History
Launched in 1960 the Fiat 1500 Cabriolet had similar styling to the Fiat-Oscar model, although minus the other cars bonnet bulge. With only a 1481cc engine the 1500 Cabriolet was also slower than the Oscar model although its performance was far from disappointing. Standard equipment for both the 1500 Cabriolet and Coupe included servo assisted front disc brakes and a generous level of interior trim. The body itself was styled by Pininfarina and was extremely elegant. These Cabriolets were also commonly known as Spiders. Production of the 1500 sports range lasted until 1967.