1930 Ford Street Rod Roadster
Specifications

Stock:
FO29-007
Current condition:
SHOW-DRIVER
Performance:
V8, 350 Chevy engine complete rebuild
Transmission:
Turbo, 350 automatic
Color exterior:
Viper Red Dupont Cromex
Color interior:
Tan interior, Roll in pleated.
Features:
18 gallon tank, 14 miles per gallon, electric fuel pump, manual brakes, Radiator-Desert Dynasty 4 roll multi fin copper top, and instruments-VDO.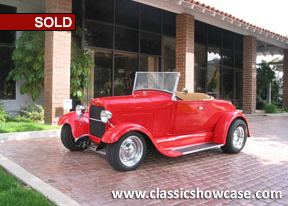 Description
(SOLD) Beautifully restore 1929 Ford Street Rod Roadster. This original 1929 all steel body Roadster had a very solid and straight body with a great frame even before its restoration. This is an original Ford built Roadster, not a replica.
History
Restored ground up Wabbits wood dash custom fitted and installed New Gennie shifter, steering wheel, etc. Glide engineering seat with custom upholstery.