1966 Jaguar-Projects XKE Series 1 4.2 OTS
Specifications

Stock:
J66-897
Performance:
6 cylinder, 265 HP, 4.2, overhead cam, 3 SU carburetors
Transmission:
4 speed
Suspension:
Independent Front and Rear
Color exterior:
Open to the desire of purchaser
Color interior:
Open to the desire of purchaser
Mileage:
100 miles after restoration, 57,652 currently
Tires:
Goodyear Vector P195/75 R15
Vin #:
1E11897
Engine #:
7E6530-9
Gearbox #:
EJ5682
Other 1:
Head #: 7E6530-9
Other 2:
Body#: 4E3335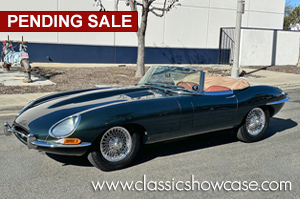 Description
*This car is for sale as a Classic Showcase restoration, equal to our driver/show-driver/show restoration levels - please see our restoration page for further information. This 1966 E-Type is a numbers-matching car that is a prime candidate for a Show or Show-Driver level restoration. It has not yet been painted, so the color is open to the desire of the purchaser.

Included in the restoration process the vehicle will be stripped to bare metal, placed on a rotisserie, metal finished, leaded, all body parts fitted to the car and chrome, prepared for primer, sealer, paint, base, clear, color sanded and buffed to a fabulous finish. All systems will be gone through and the engine will be rebuilt back to factory specifications. The transmission, clutch system, hydraulic system will be restored and the car will receive all new rubber. All chrome will be re-plated. The car will receive a complete new custom tailored and fit interior in the correct materials by our upholstery department. A DVD of the restoration process will accompany the vehicle. Upon completion of the restoration this Jaguar will be a great example to drive, enjoy and compete in shows.
History
This Series I 4.2 E-type is the most desirable of all the series with a fully synchronized 4 speed transmission, covered headlights, toggle switches on the dash, comfortable bucket seats, center console, and arm rest. This makes the best driver and the most collectable for an investment grade vehicle.
Authenticity