1973 Triumph Motorcycles Daytona 500
Specifications

Stock:
TR73-524
Current condition:
SHOW-DRIVER
Performance:
490 cc air-cooled, ohv parallel-twin, 41 bhp (31 kW) @ 7,400 rpm
Transmission:
4-speed gearbox with chain final drive
Color exterior:
Red/Black
Mileage:
15,152 miles
Vin #:
T100R KH 16524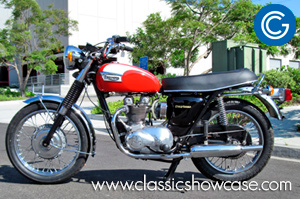 Description
Get ready to experience what only a classic British motorcycle can deliver, with this fiery and fully restored 1973 Triumph Daytona 500. This motorcycle is full of the classic period styling as well as great performance that promises to make every ride a fun and special experience! This particular Red and Black Daytona 500 has been restored by Triumph professionals, who ensured all aspects of the bike were brought back to life in a way that not only pays homage to its heritage, but to its power and performance as well.

The Daytona 500's engine has been restored and features a vast assortment of new parts including: new pistons, new rings, new valves, and the Triumph's twin carburetors were carefully rebuilt to ensure optimal fuel delivery. This restored blend of power and precision will excite you as you twist the throttle and unleash the full potential of this iconic motorcycle on your favorite roads. In addition to the engine rebuild, new paint graces this Triumph, creating an attractive color combination of fiery Red and sleek Black that exudes a sporty, and timeless elegance. This motorcycle is also engineered for great control and handling, with the addition of new cables and controls, you'll experience a ride that is as smooth as silk, allowing you to effortlessly navigate the road with precision.

Simply put, this classic Triumph Daytona 500 is ready to ride. It's a wonderful vintage bike that would make an excellent addition to the seasoned classic motorcycle collector or enthusiast's stable...So we invite you to hop on, feel the engine roar to life, and let the wind whip through your hair as you embark on a ride that will stir your passions; Don't miss the opportunity to own an iconic and fun piece of motorcycle history today!
History
The 'Daytona' name was derived from American rider Buddy Elmore's win at the 1966 Daytona 200 race held at the Daytona International Speedway in Daytona Beach, Florida. He achieved an average speed of 96.6 mph (155.5 km/h) on a 'works special' Triumph Tiger 100 and secured Triumph's first Daytona road race victory. The 500 cc Triumph Tiger 100 Daytona (T100T) was developed by Triumph's Chief Engineer and designer Doug Hele and launched as a production motorcycle the following year. Based on the setup developed for the 1966 Daytona races, the T100T was fitted with a new cylinder head and twin Amal Monobloc carburetors. In the head, the valve angle was reduced by two degrees and the intake valve size increased as a result of testing; the valves on test engines had a worrying tendency to meet during the overlap period. Derived from Edward Turner's original twin cylinder design and a development of the Triumph Tiger, the 'Daytona' sacrificed low-speed tractability for a pronounced power step at 3,500 rpm that helped it to compete with the advanced designs from Japanese manufacturers like Honda. As well as decreased engine flexibility, however, the increase in power reduced the life of the valve gear, leading to heavy oil consumption.