1963 Jaguar-XKE Series 1 3.8 FHC
Specifications

Stock:
J63-691
Current condition:
SHOW-DRIVER
Performance:
3.8 dohc in-line 6, 265 factory base hp, 3 Weber 45 Carburetors
Transmission:
4 speed
Suspension:
independent front and rear
Color exterior:
Titanium Gray
Color interior:
Gray
Features:
AM/FM/CD stereo system; Alloy Dash
Mileage:
940 miles since restoration
Wheels:
4 Dayton D-type wheels
Tires:
Pirelli P4000
Vin #:
888691
Engine #:
RA73212-9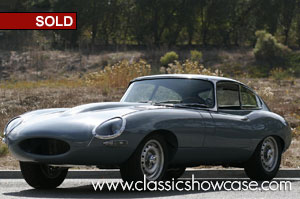 Description
SOLDAre you ready for a high-performance Jaguar E-Type that is ready for club track days and much more? We've got the perfect example. Classic Showcase performed a comprehensive restoration to this one-of-a-kind XKE and chose a non-stock color of Titanium Gray (with a complementing Gray interior), which has received nothing but adoration and compliments when driven and shown. In addition, the E-type has received a number of performance and comfort upgrades, including a bumper-less exterior providing clean lines, and D-type style wheels that add to its racecar-like presentation; truly one of our most unique looking and high performing E-Types we have ever restored! The Coupe has been sparingly driven with only 940 miles traveled since its restoration, and has been recently serviced; the E-Type is now ready to take on any driving scenario!

Mechanicals: The XKE has undergone a comprehensive nut and bolt rotisserie restoration, and includes a fully rebuilt 3.8 engine, new pistons, bearings, seals, timing chain, oil pump, water pump, and has had its head completely rebuilt, along with the valves, guides, keepers and seals. All machine work on the block and head was performed with the utmost of precision. A lightened flywheel was installed with a completely re-built 4.2 transmission, along with a brand-new suspension. The Weber carburetors were also restored and rebuilt, along with the clutch and an all-new hydraulic system with front and rear master cylinders, including a proportionate valve for adjusting the sensitivity of each master cylinder. The XKE's chassis and many other parts were powder coated, the undercarriage fully rebuilt, new wire harness installed, its gas tank restored, and epoxy sealed, a new high-volume fuel pump, all electrical components, gauges, knobs, and switches were rebuilt or replaced, the instruments were re-screened and rebuilt, replaced stone guards, new triplex windshield and headlight glass, new drip panels, new custom 2-inch stainless steel free-flow exhaust system with heat treated headers, with the rear end completely rebuilt with upgrades such as brakes, brake bleeders, and shocks.

Body Work: The XKE's body was stripped to bare metal, metal finished and finished on a rotisserie. We then leaded in the weld marks on the fenders, and removed the bumpers. All body parts were fit to the car on the rotisserie in bare metal, then epoxy sealed and painted in base coat and clear coat, and color sanded and buffed to the beautiful finish you see today. The car also received new rubber, seals, grommets and gaskets, trim and bright work replaced or re-plated as necessary.

Performance Upgrades: Aluminum high output radiator with auxiliary fan and alloy header tank, gear reduction starter, high output alternator, 3 Weber carburetors, machined linkage and throttle assembly in stainless steel with aluminum manifold, neoprene bushings, fully synchronized 4.2 transmission, balanced flywheel, Wilwood brakes and performance master cylinders and pedal assembly, vented disc brakes, large calipers, adjustable shocks, solid steering mounts, solid engine mounts, Dunlop D-type wheels, rear brake bleeders, wide performance Pirelli P 4000 tires, Mallory electronic ignition, and a 15 inch Wooden Nardi steering wheel and a complimenting Wood gear shift knob.

Interior: sound deadening was installed for a quieter ride and to reduce heat, restored leather seats upgraded from Series II XKE, which adds a reclining back to the seats for additional comfort and adjustment, upholstered in a Series 1 pattern. Custom fit and installed carpet, vinyl panels, dash, headliner, etc. It also features the alloy panels for the small instruments, console, and radio console. The Coupe also features a built-in AM/FM/CD stereo system.

This special E-Type has won numerous JCNA Concours, slalom and Rally events. It stands in a truly spectacular condition today, and is ready for competition, showing, or simply as a unique addition to your existing Jaguar collection!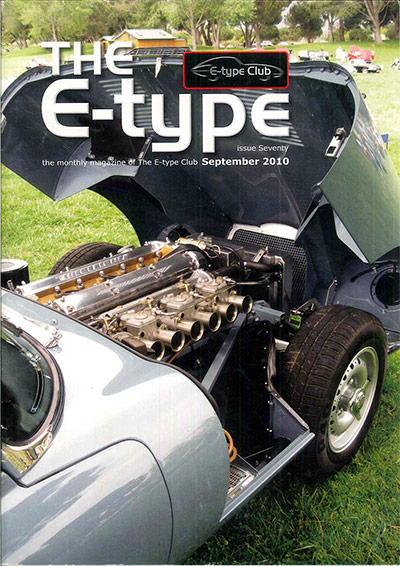 History
The Series 1 was introduced, initially for export only, in March 1961. The domestic market launch came four months later in July 1961. It can be recognized by glass covered headlights (up to 1967), small "mouth" opening at the front, signal lights and tail-lights above bumpers and exhaust tips under the license plate in the rear. The Series I E-type is the most desirable of all the series with a 4 speed transmission, covered headlights, toggle switches on the dash, updated with late Series I comfortable bucket seats, center console, and arm rest. This makes the best driver and the most collectable for an investment. It is a timeless example of class and elegance joined with the strong racing history that Jaguar has become so well known for.