1967 BSA Motorcycles A65 Lightning
Specifications

Stock:
BSA67-918
Current condition:
ORIGINAL-PRESERVED
Performance:
650cc, twin carb, OHV parallel twin, Amal Monobloc
Transmission:
4 speed
Suspension:
front -Telescopic Forks/ rear Swing Arm, 2 Shocks
Mileage:
79,499
Tires:
Front 3.25 X 18
Brakes:
Drum- front and rear
Vin #:
A65LA2918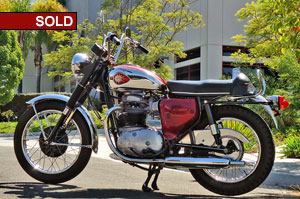 Description
Attention British motorcycle collectors and enthusiasts – take a look at this highly original, numbers-matching 1967 BSA A65 Lightning, a true classic that would make an excellent addition to your collection! This bike is a great representation of late 60s vintage motorcycling and is sure to deliver an experience that is nothing short of exhilarating. The sweeping lines, the chrome accents, and the unmistakable silhouette all bear witness to the unrivaled craftsmanship that defined an era. As you straddle the saddle, you become a custodian of history, a guardian of the legacy that these legendary motorcycles embody.

With its patina of originality, the A65 Lightning showcases the journeys it has undertaken over the years, serving as a testament to its endurance and authenticity. But it's not just its originality that will appeal to collectors - the BSA also runs great. It features a robust and powerful engine 650cc, twin carb, OHV parallel twin, Amal Monobloc engine which ignites with a purposeful growl, promising an adrenaline-fueled ride. The bike's mechanical components are in very good condition, and you will no doubt enjoy the BSA on each twist and turn of your favorite scenic highways.

Whether you are a seasoned collector or a passionate enthusiast, this A65 Lightning is the missing piece that completes your collection. It is a timeless symbol of British motorcycle excellence, and a true representation of the spirit of adventure and freedom that resonates with so many collectors and enthusiasts.

Now is the time to seize the opportunity to acquire this wonderful example of a 1967 BSA A65 Lightning. With its stunning visual appeal, impeccable performance, and unrivaled heritage, this motorcycle stands as an embodiment of the soul of classic 1960s motorcycling.
History
The BSA A65-A50 twins, the A65 being a 650 twin & it's smaller sister-bike the BSA A10 500 twin, were the natural result of the trend, then sweeping the British motorcycle industry, to unitize engine construction. Prior, most engine packages were made up of separate crankcase, primary case & gearbox, all bolted together in mounting plates inside the frame. Known then as Non-Unit construction, now as Pre-Unit, it had evolved from the earliest days of the motorcycle industry, when it was common for a motorcycle company to outsource engines & gearboxes from other firms & adapt them to their cycles. But, by the late 1950's the major makers were all using their own standardized components & the move was made to make engines lighter, more compact, stronger structurally (in theory, allowing more power with less vibration & flexing) & cheaper to produce. Hence Unit-Construction, which placed all 3 component sets in one common set of cases. It was only a matter of time before they converted their 650 twin over as well (this would take place in 1963). It was clearly time for BSA Motorcycles to take their successful line of vertical twins, the 500cc BSA A7 & the 650cc BSA A10. Both used the same design that was launched back in 1947 with the original BSA A7 cast iron twin. So, work was begun in earnest to develop a Unit-Construction replacement for their venerable line of Pre-Unit Twins. These would become the BSA A65-A50 line.