1967 Jaguar 420 4.2 Sedan
Specifications

Stock:
J67-9BW
Current condition:
SHOW-DRIVER
Performance:
4.2 liter, 6 cylinder, 2 SU Carburetors
Transmission:
Automatic
Color exterior:
Pastel Blue
Color interior:
Dark Blue
Features:
Motorola AM/FM
Mileage:
34,197 showing
Wheels:
Chrome Wire Wheels
Tires:
Atlas P205/70/R15
Brakes:
Dunlop servo-assisted disc
Vin #:
P1F25199BW
Engine #:
7F1646-9
Gearbox #:
13988
Other 1:
Body #: 4F1646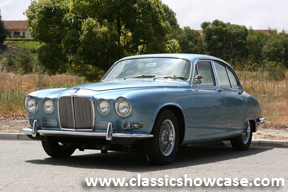 Description
This numbers-matching, single owner from new 1967 Jaguar 420 Sedan is an amazing time capsule with incredible patina which made it an excellent candidate for a light cosmetic restoration performed by our team. The Jaguar has been shown at numerous events over the years, holds a history of frequent servicing and maintenance by Jaguar professionals, and comes with a nice collection of receipts of prior maintenance work performed. Some of the work we have previously performed included: a complete re-finish of the 420's exterior, a re-plating of the car's chrome, full restoration of the 420's seats (in a new Blue leather), along with the addition of new carpet that was fitted and installed by master trimmers in our upholstery department.

The Jaguar's brakes, instruments, clutch, and body are all in excellent condition, and the handling, running, and power of the car are near perfect. The 420 comes complete with it's original tool kit, original Bill of Sale, original owner's manual, it's original California black license plates, along with a pictorial mp4 video file of the 420's light restoration work. This Jaguar is for the collector who wants an original and well preserved car that has the added benefit of looking and driving great!


Videos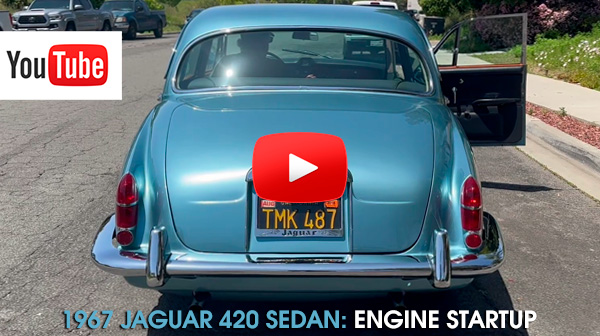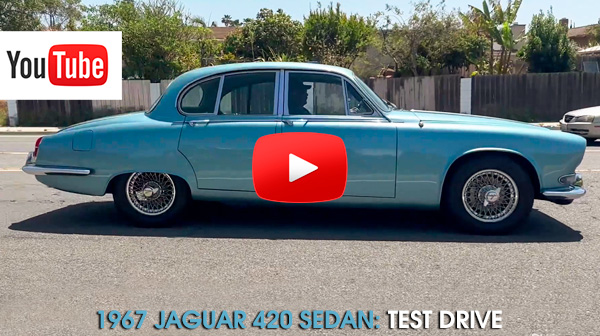 History
The 1967 Jaguar 420 sedan holds a significant place in the iconic British automaker's history. Introduced as an evolution of the previous Mark 2 model, the Jaguar 420 combined elegance and sportiness, representing a transitional phase between the classic luxury cars of the 1960s and the more modern designs of the 1970s. Equipped with a refined 4.2-liter XK engine, the 420 boasted impressive performance and handling, making it a favorite among driving enthusiasts of its time. Its distinguished styling featured a striking chrome grille, sleek lines, and luxurious interior, showcasing Jaguar's commitment to craftsmanship. Despite being overshadowed by its renowned E-Type sibling, the Jaguar 420 left a lasting impression as a sophisticated and well-engineered classic sedan that continues to captivate car enthusiasts to this day.