1960 Jaguar XK-150 3.8 DHC
Specifications

Stock:
J60-797
Current condition:
SHOW-DRIVER
Performance:
3.8 Liter, 6 cylinder with 2 SU carbs
Transmission:
4-speed manual
Color exterior:
Silver
Color interior:
Red with Black top
Mileage:
less than 100 test miles
Wheels:
Chrome Wire Wheels
Tires:
Firestone Sport 200 185/16
Brakes:
Disc Brakes front and rear
Vin #:
S838797
Engine #:
VA1739-8
Gearbox #:
JL45871JS
Other 1:
Body#: R8361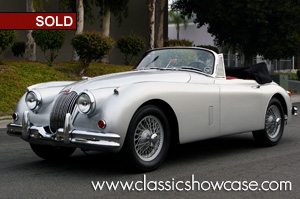 Description
(SOLD) This Jaguar has just wrapped up a comprehensive restoration to a Show/Driver level, and is now available for purchase. This Drop Head Coupe has been thoroughly gone through and its body has been disassembled, photographed, and taken to bare metal with all proper body work being fitted to perfection. The interior has been re-upholstered by master trimmers in our upholstery department, along with a proper and perfectly fitted new convertible top. The brite work has been re-plated where needed, with all hardware panels done in their proper finish. A rare vehicle with limited ownership and matching numbers, this XK-150 yields a rare engine size of 3.8 liters, which was the largest displacement engine of the period that was available for this model. The 3.8 engine model had a few distinct changes, among them a significant difference in the rear tail light fixtures. This XK-150 presents a great opportunity for the collector or enthusiast seeking to add a rare piece of Jaguar history to his or her collection. A pictorial DVD documenting the XK-150's various restoration processes accompanies the vehicle.

View a YouTube video overview of the Drop Head Coupe below: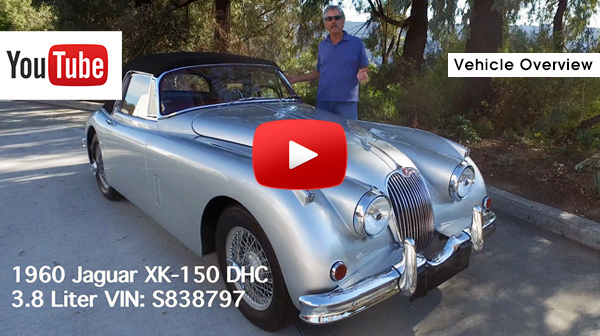 History
First introduced in 1948, the Jaguar XKs caused a sensation; race car performance on the road, and with an unsurpassed level of sophistication and timeless beauty. The hot new XK was a big hit in Hollywood, where actor Clark Gable took delivery of the first one available. Surprisingly, the XKs were an amazing value at a relatively low cost, bringing high performance within the reach of more people. Today the XK is revered as an automotive landmark, early XKs enjoying success in national and international racing, rallying and record breaking. Their performance, even by today's standards, is highly respectable, and they remain a gem in the world of collector cars. The introduction of the XK 150 was announced in May of 1957. This more modern version of the XK 120 and 140 featured 4-wheel disc brakes and a sleeker shape. Perhaps most noticeable, the wing line is comparatively straighter than its dramatically rounded predecessors. The XK 150 also features a wider, more delicate grill, with a stylish indent beneath it. A fillet was inserted to widen the bonnet, and thinner doors gained more interior room. The much altered, roomier body had a wider hood opening, creating a more practical vehicle without losing the XK elegance.