1962 Jaguar Mark II 3.8 Sedan
Specifications

Stock:
J62-990
Current condition:
SHOW-DRIVER
Performance:
3.8 6-Cylinder, 200 hp with Twin SU HD6 Carburetors
Transmission:
MT75 Cosworth 5-speed transmission
Suspension:
Independent Front, Live Rear Axle
Color exterior:
British Racing Green
Color interior:
Tan
Wheels:
Chrome Wire Wheels
Tires:
(5) matching Universal Sport 185/15 tires
Brakes:
Four-wheel disc brakes
Vin #:
P218990BW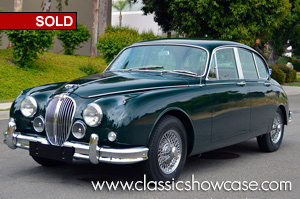 Description
Prepare to be captivated by the awe-inspiring beauty of this fully documented, comprehensively restored 1962 Jaguar Mark 2 Sedan, a unique masterpiece that effortlessly blends elegance with performance. Our team of Jaguar restorers painstakingly poured their heart and soul into bringing this classic back to life, transforming it into a concours-worthy example that you see today. This show-level example features a darker, more desirable shade of British Racing Green that is complimented with a beautiful, fully restored Tan interior. The Mark 2 has been tastefully modified with both performance and comfort upgrades, where our technicians placed emphasis on warm weather driving compatibility to ensure the best performance in hotter regions. Originally an Arizona car from new, the Mark 2 has been carefully preserved in Southern California since the early 1970s, allowing it to retain its authentic charm.

This particular Mark 2 sedan stands out from the pack in that it's not just a typical restored Jaguar, but a truly unique work of art that demands recognition. With an impeccable restoration, it's not only a joy to drive, but has also proven to be a fierce contender in classic car and Jaguar-themed Concours events. In fact, it proudly took home a trophy in its first showing at the esteemed La Jolla, CA Concours D'Elegance --- a testament to its exceptional quality and attention to detail…nothing was overlooked in the restoration process of this Sedan, and it stands as one of the finest and best examples available in the world today.

The sedan began its restoration journey with our team painstakingly disassembling and documenting each component off of the Sedan before the start of the bodywork and paint process began; after disassembly, the sedan's body was stripped down to bare metal, where it was meticulously finished, and expertly leaded. Each body part was meticulously fitted and chrome, bringing a touch of brilliance to every angle. From primer to sealer, paint to base and clear coats, the finish was lovingly color sanded and buffed to achieve a flawlessly fabulous British Racing Green finish you see today.

The restoration extends beyond the surface. Every system in the car has been meticulously gone through, ensuring optimal performance. The engine has been rebuilt back to factory specifications, unleashing its full power with each rev. The fuel, electrical, cooling, and hydraulic systems have been meticulously restored. The result is a car that runs like a dream, delivering a driving experience that is both exhilarating and smooth. The Sedan's power plant is impressive, as the Mark 2's mechanical prowess easily matches its BRG aesthetic splendor. All systems – from the Major to the Minor were completely gone through and were replaced or restored…from the 3.8-liter engine to the upgraded MT75 Cosworth 5-speed transmission, no detail was spared. The Mark 2's fuel, electrical, cooling, and hydraulic systems were restored as well, along with the addition of a new wire loom. The rear end, and suspension were also painstakingly rebuilt to factory specifications, ensuring optimal performance and reliability. The Mark 2 was also upgraded and configured with an alloy radiator, gear reduction starter, and a new stainless steel exhaust system. In addition, the Sedan's britework has also been restored to its former glory, completing a picture of restored automotive perfection.

The Sedan's captivating BRG color is perfectly complemented by a custom-tailored Tan interior, that was meticulously crafted by our master trimmer in our upholstery department. It's a combination that is full of sophistication that helps provide a luxurious driving experience. As you gaze into the cabin, you'll find an interior that showcases the epitome of craftsmanship. The interior has been configured with sound deadening to ensure a smooth, quiet ride, while wood accents have been completely restored to a level of excellence that leaves nothing to be desired. The attention to detail in the cabin is apparent at every glance, creating an ambiance of luxury in a Mark 2 that few have seen before, and will take your breath away. The Sedan has also been configured with a Blaupunkt period-correct AM/FM Stereo that our team converted to digital, so you may listen to your favorite music or audiobooks on your phone or other digital device, as you coast along your favorite roads and highways.

This fully restored 1962 Jaguar Mark 2 sedan represents the epitome of automotive craftsmanship and beauty. From its resplendent dark British Racing Green exterior to its exquisitely tailored Tan interior, every aspect has been meticulously perfected, culminating in one of the most unique Mark 2 restorations performed today. Prepare to be transported to a world of refined elegance and exhilarating performance as you embark on unforgettable journeys in this remarkably unique and expertly restored classic Jaguar Mark 2 sedan. Don't miss the opportunity to own a piece of automotive history that seamlessly blends timeless design with modern-day excellence! The Mark 2 comes complete with a JDHT certificate of authenticity, mp4 pictorial video documenting the entire restoration process from start to finish, along with books, manuals, and much more. Experience what only a classic Jaguar can deliver today!

Watch a YouTube video overview and test drive below: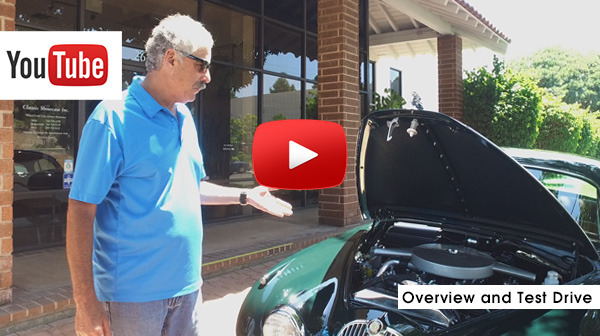 History
Adhering to William Lyons' maxim of "grace, pace and space", the Mark II was a beautiful, fast and capable saloon car. It came with a 2.4 L, 3.4 L or 3.8 L Jaguar XK6 engine. The 3.8 is similar to the unit used in the 3.8 E-Type (XKE), having a different inlet manifold and carburetion (two SUs versus three on the E-Type in Europe) and therefore 30 bhp less. The head of the six cylinder engine in the E-Type was also different with its "straight port" layout as opposed to the slightly curved ports of the Mark II. The Mark II model was raced successfully in the European Touring Car Championship.
Authenticity