1965 Jaguar-XKE Series 1 4.2 OTS
Specifications

Stock:
J65-149
Current condition:
SHOW-DRIVER
Performance:
265 hp, 4.2, 3 SU carburetors
Transmission:
4 speed manual
Suspension:
Independent Front and Rear
Color exterior:
Old English White
Color interior:
Black
Features:
Blaupunkt AM/FM Radio
Mileage:
79,476
Wheels:
Chrome Wire Wheels
Tires:
Michelin XVS 185/HR/15
Brakes:
Disc, front and rear
Vin #:
1E11149
Engine #:
7E4458-9
Gearbox #:
EJ3512
Other 1:
Body Number: 4E2466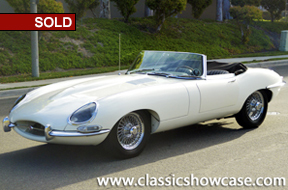 Description
(SOLD) The Jaguar E-Type offered for sale here is a bare-metal restored roadster that is one of the most sought after of the Series 1 models available today. With covered headlights, triple carbs, toggle switches, and comfortable seats, this 1965 open two seater always had style and class. A Heritage Certificate accompanies the car verifying the originality, and that the numbers match. It had been restored by Jaguar professionals, and had been well sorted and maintained since the restoration, driven sparingly, and kept in a collection. Outfitted in its original beautiful and classic colors of white and black, it was privy to a no-expense spared restoration. There are many finely restored E-types, but few can match the attention to detail present in this one. Over 3,000 hours were spent completely disassembling, rebuilding and refinishing every component on this XKE. The body was stripped to bare metal, gapped to factory standards, block sanded, painted, then wet sanded and buffed. It was given a new Connolly leather interior, with proper British materials, and a new top and boot. The engine was blueprinted, balanced, and rebuilt, with totally rebuilt running gear with all new rubber, bushings, and ball joints. It had new brakes installed, and the cylinders were re-sleeved. The fuel, electrical, hydraulic, and cooling system were all gone through. It comes complete with a file of receipts of the restoration, as well as a DVD of the restoration.

This iconic XKE is not only great looking, but it runs and drives superbly. It recently won a trophy at the famous La Jolla concours, and it is ready for further campaigning. Truly a very desirable example ready to be driven, shown, and enjoyed.
History
The Series 1 4.2 is a very user friendly, sporty driver, and one of the most collectable of the E-Types. These are wonderful cars with a 4.2 liter engine with 3 SU carburetors and a fully synchronized transmission. Some of the features of this model are covered headlights, toggle switches, full instrumentation with styling and a design that was way ahead of its time with center console, and arm rests. Other features of this Series 1 are its steep windshield and tail lights, which are placed above the bumper line in the rear deck. Similarly, the parking lights are above the front bumper line in the front fenders. In 1964 when the 4.2 was tested, fuel consumption was rated road reported at 22 MPG and a top speed of 140 MPH.
Authenticity