1967 Jaguar-XKE Series 1 4.2 OTS
Specifications

Stock:
J67-000
Current condition:
SHOW-DRIVER
Performance:
4.2 Liter, 6 Cylinder, 3 SU Carbs
Transmission:
4 speed manual
Color exterior:
Carmen Red
Color interior:
Beige (with Black top)
Features:
Kenwood AM/ FM/ Cassette
Mileage:
78,064 miles showing
Wheels:
Chrome wire wheels
Tires:
185-15 Vredestein Sport Classic Tires
Vin #:
1E15000
Engine #:
7E12203-9
Gearbox #:
EJ13203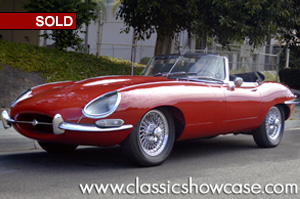 Description
(SOLD) This stunning, matching numbers, original CA 1967 Jaguar XKE roadster is a prime example of one of the era's most desirable and iconic E-Type series made, and features one of the most sought-after colors of Carmen Red. The XKE was dispatched at the Jaguar factory on March 2nd, 1967, and was delivered to its first owner, a Mr. Cavon of Oakland, CA. The E-Type remained in California for many years, trading hands with a few prominent Northern California collectors before arriving to its most recent owner, a collector in Colorado. It has been a very original car all of its life, and was recently restored by Jaguar professionals who kept it in its original body color of Carmen Red. The car was disassembled, documented, and the body was stripped to bare metal with all body panels being in excellent condition and original to the car. The roadster was then painted by a renowned Pebble Beach painter who took his time to keep the factory spot welds and seams apparent on the car. The engine has been rebuilt and is showing excellent compression, with the transmission shifting and performing just as it should. The interior is a soft supple beige leather that complements the striking Carmen Red exterior, and adds to the already sleek look and feel of the car. To further give it the right look and make the ride even more enjoyable, the XKE was recently shod with new, correct size Vredestein tires. There are service receipts dating back to the late 1970's, all the way up to the car's recent servicing. This highly collectible Western States E-type example is a very good investment grade Jaguar, and considered to be the best of all E-Type series models made.

View a YouTube video overview and road test of the Roadster below: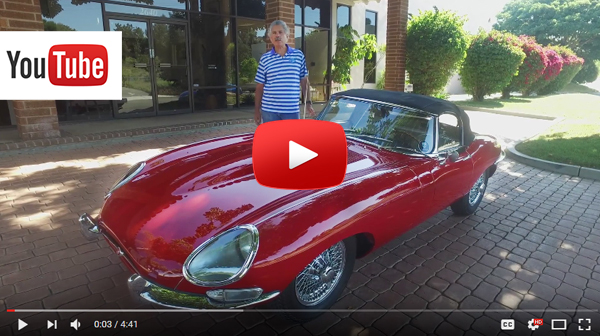 History
The Series 1 4.2 is a very user friendly, sporty driver, and one of the most collectable of the E-Types. These are wonderful cars with a 4.2 liter engine with 3 SU carburetors and a fully synchronized transmission. Some of the features of this model are covered headlights, toggle switches, full instrumentation with styling and a design that was way ahead of its time with center console, and arm rests. Other features of this Series 1 are its steep windshield and tail lights, which are placed above the bumper line in the rear deck. Similarly, the parking lights are above the front bumper line in the front fenders. In 1964 when the 4.2 was tested, fuel consumption was rated road reported at 22 MPG and a top speed of 140 MPH.
Authenticity