1966 Jaguar-XKE Series 1 4.2 FHC
Specifications

Stock:
J66-522
Current condition:
SHOW-DRIVER
Performance:
265 hp, 4.2 overhead cam, Weber carburetors
Transmission:
5 Speed
Suspension:
Independent Front / Rear
Color exterior:
Jaguar Dark Blue
Color interior:
Tan
Features:
Blaupunkt AM/FM digitally converted with IPod jack installed in center console; jack, spare belt and tube
Mileage:
5,635 miles since the restoration
Wheels:
Borani 2 ear spinner wheels, balanced and true to the wheels and tires
Tires:
Michelin XWX 205/70/VR15
Brakes:
Disc, front and rear
Vin #:
1E31522
Engine #:
7E5270-9
Gearbox #:
EJ4355
Other 1:
Body #: 4E22401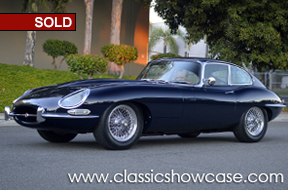 Description
(SOLD) Superior performance and comfort was our goal in restoring this classic Jaguar E-Type Coupe, and the result is the ultimate driving machine with many fantastic options. No expense was spared for this incredible 1966 Jaguar XKE FHC. The craftsmanship is superb, as well as the fit.

During the restoration process, the following was completed: The car was documented and disassembled. The body was stripped to bare metal, metal finished, fitted, rotisserie restored, painted base coat and clear coat, and then color sanded and buffed to a superb finish. All new rubber seals, grommets, and gaskets were used. The bright work was fitted to the car in bare metal, and has been replaced, or replated as needed. A new interior was custom fit with a new headliner, carpet, panels, and dash, all created by the master craftsmen at Classic Showcase.

The 4.2 engine was rebuilt to factory specifications with the head converted to handle the A/C system installation. It also received the following performance upgrades: new pistons, bearings, valves, guides, seals, timing chain, water pump, Weber carburetors with Billet brackets and special fabricated linkage, special air cleaners on the carburetors, new aluminum radiator with auxiliary fan, new Tremec T5 5 speed transmission with the 37% option 5th gear reduction, high torque starter, Wilwood calipers and brake pads with stainless steel brake lines, vented front rotors, GAZ adjustable shocks, a Classicfabs exhaust system with headers, a complete custom A/C unit, gas tank restored and epoxy sealed, pointless electronic fuel pump, screw on oil filter, high capacity alternator, lightened flywheel, Mallory electronic ignition, all electrical components restored or replaced, a new Optima battery with a battery tender, a Billet battery hold down, new wire harness, and the gauges, knobs, and switches were rebuilt, re-screened, or replaced as needed. To make the car more comfortable for driving, Dynamat cooling insulation, and high quality sound deadening material (as used on the space shuttle) were added to reduce the heat and noise coming from the engine bay.

This was a very comprehensive restoration with much time spent on detail and quality. This is one of the best customized examples for sale in the world today. It has been shown, and won, numerous awards. It has been well sorted on the recent rallies it has participated in.

This is a fabulous opportunity for someone who doesn't want to wait 2 years to have a phenomenal car like this, created for them. It was one of our special collectors dream car. Truly for the discerning Jaguar collector who is ready to enjoy, and appreciate, a one of a kind dream car such as this one. A DVD of the restoration process will accompany the car.
History
Launched in 1961 at the international motor show in Geneva, the Jaguar XKE echoed the sensation of the XK-120, perhaps even more. An astonishing performance package, with amazing speed and handling, the Jaguar XKE's' brand-new 4-wheel independent suspension system was so well conceived, it was used by Jaguar for over thirty years. The Series 1 4.2 is a very user friendly, sporty driver and is one of the most collectible of the Jaguar E-Types. Some of the features of this model are covered headlights, toggle switches, full instrumentation with styling and a design that was way ahead of its time with center console, and arm rests. Other features of this Series 1 are its steep windshield and tail lights, which are placed above the bumper line in the rear deck. Similarly, the parking lights are above the front bumper line in the front fenders. In 1964 when the 4.2 was tested, fuel consumption was rated road reported at 22 MPG, and a top speed of 140 MPH.
Authenticity