1966 Jaguar-XKE Series 1 4.2 FHC
Specifications

Stock:
J66-352
Current condition:
ORIGINAL-PRESERVED
Performance:
4.2 Liter 6 Cylinder 265 hp engine with 3 SU Carburetors
Transmission:
4 speed manual, fully synchronized
Suspension:
Independent Front / Rear
Color exterior:
Golden Sand
Color interior:
Cinnamon
Features:
Eclipse AM/FM/CD radio
Mileage:
87,028
Wheels:
Chrome Wire Wheels
Tires:
Michelin Red Line 185/15
Brakes:
Independent Front / Rear
Vin #:
1E32352
Engine #:
7E7200-9
Gearbox #:
EJ6409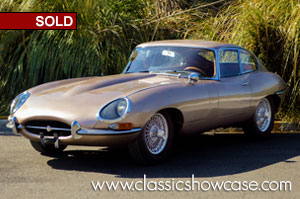 Description
(SOLD) It is not often that you find an original, unmolested, matching numbers XKE with an original interior. This fabulous color combination of golden sand and cinnamon, with long term ownership, has only traveled 87,028 miles since new. We reccomend keeping this XKE in a preservation status, due to it's condition and originality. After waking the car up from long term storage, we performed mechanical services to bring the car back to road-worthy status.

While the Coupe may be enjoyed now as-is, we recommend repainting the car and addressing a few other cosmetic details to take it to the next level it deserves. The purchase of the Coupe includes a Jaguar Heritage Certificate, and it's original jack.
History
Launched in 1961 at the international motor show in Geneva, the XKE echoed the sensation of the XK-120, perhaps even more. An astonishing performance package, with amazing speed and handling, the XKE's' brand-new 4-wheel independent suspension system was so well conceived, it was used by Jaguar for over thirty years. The Series 1 4.2 is a very user friendly, sporty driver, with all-synchro 4-speed gearbox introduced by Jaguar in 1965, and is one of the most collectable of the E-Types. Some of the features of this model are covered headlights, toggle switches, full instrumentation with styling and a design that was way ahead of its time with center console, and arm rests. Other features of this Series 1 are its steep windshield and tail lights, which are placed above the bumper line in the rear deck. Similarly, the parking lights are above the front bumper line in the front fenders. In 1964 when the 4.2 was tested, fuel consumption was rated road reported at 22 MPG, and a top speed of 140 MPH.