1965 Jaguar-XKE Series 1 4.2 OTS
Specifications

Stock:
J65-677
Current condition:
SHOW
Performance:
265 HP, 4.2 Liter, 3 SU carburetors
Transmission:
4 speed Manual Transmision
Suspension:
Independent Front and Rear Suspension
Color exterior:
Black
Color interior:
Black (with Black convertible top & Black boot)
Features:
Blaupunkt AM/FM Stereo
Mileage:
38,128 showing, with limited test miles since restoration
Wheels:
Chrome Wire Wheels
Tires:
Universal Sport 185/15
Brakes:
Disc Brakes
Vin #:
1E10677
Engine #:
7E2934-9
Gearbox #:
EJ1977
Other 1:
Body Number: 4E1815
Description
(SOLD) This highly collectible numbers-matching 1965 E-Type Roadster has been recently restored by Jaguar professionals at Classic Showcase to that of a show-level. This car is ready for the pure Jaguar collector demanding the very best. The Roadster has undergone a comprehensive rotisserie restoration, received a new finish of Black, with a perfectly fit and handsomely matched Black interior and convertible top done in the proper and correct materials. The E-Type was dissembled, and all parts were fully documented and inspected during the restoration process. The vehicle body was worked, the metal finished, fit, and leaded as needed, and all body parts and chrome were perfectly fit to the car. All parts were individually painted off the car in the booth, then primed and sealed with base coat applied, clear coated, and finally color sanded and buffed to a beautiful finish. All mechanical systems were gone through and restored, or replaced as necessary. The XKE is accompanied by its original 1965 registration, warranty booklet, and a dealer list packet. In addition, an MP4 video documenting the Roadster's restoration process accompany the car. With such coveted features such as covered headlights, triple SU carbs, toggle switches, and comfortable seats, this 1965 E-Type is full of the style and class that classic Series 1 E-Types are known for. This triple-black E-Type is a sleek cat that is not only ready for your favorite driving route, but stands as an excellent choice to campaign at local and regional Concours events.

View a YouTube video overview and road test of the Roadster below: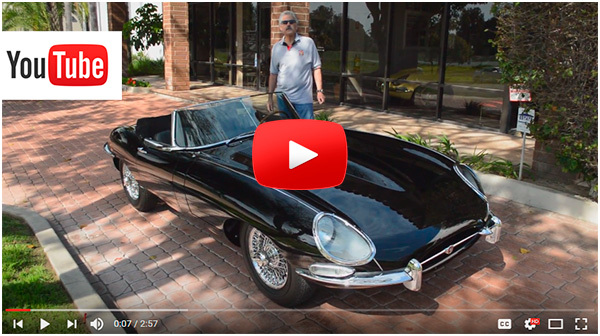 History
Launched in 1961 at the international motor show in Geneva, the XKE echoed the sensation of the XK-120, perhaps even more. An astonishing performance package, with amazing speed and handling, the XKE's' brand-new 4-wheel independent suspension system was so well conceived, it was used by Jaguar for over thirty years. The Series 1 4.2 is a very user friendly, sporty driver and is one of the most collectable of the E-Types. Some of the features of this model are covered headlights, toggle switches, full instrumentation with styling and a design that was way ahead of its time with center console, and arm rests. Other features of this Series 1 are its steep windshield and tail lights, which are placed above the bumper line in the rear deck. Similarly, the parking lights are above the front bumper line in the front fenders. In 1964 when the 4.2 was tested, fuel consumption was rated road reported at 22 MPG, and a top speed of 140 MPH.
Authenticity