1997 Porsche 911 C4S Coupe
Specifications

Stock:
P97-787
Current condition:
ORIGINAL-PRESERVED
Performance:
DOHC 24 Valve 3.6-liter engine, aluminum block and heads, Varioram resonant induction, Bosch Motronic ME7.8 engine control system w/ port fuel injection 282hp 273 lb-ft @ 4250 rpm
Performance options:
All Wheel Drive
Transmission:
6 speed manual transmission
Suspension:
Fully independent sport suspension
Color exterior:
Arctic Silver
Color interior:
Gray Supple leather
Features:
Factory turbo body, suspension, brakes and trim. 2+2 passenger, rear jump seat or storage area, heated windshield washers, speed activated rear spoiler, projection headlights, headlight washers, fog lights, auto climate control with A/C, remote entry
Mileage:
60,134
Wheels:
18" Light alloy wheels
Tires:
Continental 225/40ZR18, 285/30ZR18
Brakes:
4 piston turbo vented disc brakes with ABS-5
Vin #:
WPOAA2996VS320787
Other 1:
Displacement: 219 cu in, 3596cc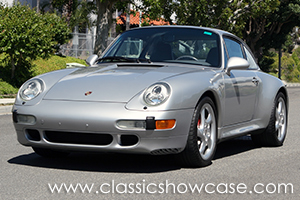 Description
This unrestored 1997 Porsche is an original Western car that is in like-new condition and features a 3.6-liter engine and 993 Turbo body style, producing a great look. All service was completed by Porsche dealerships, and Classic Showcase has also recently serviced the vehicle.

The Porsche 1997 C4S is a significant example, as it was the final incarnation of the air-cooled 911 that were first introduced in 1964. Many enthusiasts and collectors consider the 993 to be the best of the air-cooled 911 series. As Car & Driver noted in their take on the car, ''Porsche's version of the Goldilocks tale is the 993-generation 911, the one many Porschephiles agree that the company got just right,'' with an ''ideal blend of technology and classic 911 air-cooled heritage.'' This particular 911 C4S example stands in excellent condition and is mechanically perfect. It comes with a complete collection of service records, books, and its original Monrony window sticker.

In the Porsche's cabin, the driver will be delighted with the fully electric supple leather seats in the front and rear, dual-remote mirrors, climate control, speed cruise, full instrumentation, electric sunroof, along with an in-dash Porsche factory stereo system with AM/FM with Cassette and six-CD Changer.

The 3.6-liter engine and 6 speed manual transmission powers the C4S, and also features large Red caliper brakes. The C4S also features an all-wheel-drive suspension system that really grips the road when experiencing twisty and windy road conditions. Enjoy this Porsche on your favorite open road or highway and experience the performance and handling that this Porsche is sure to deliver!
History
The 993 Porsche 911, first introduced in 1995, is considered by many the last of the ''classic'' 911s. Being the final iteration of the revered air-cooled sports car, it was the most advanced and the highest quality 911 produced yet with massive performance and timeless styling. The Porsche 959 was a cutting-edge design that Porsche invested huge amounts of resources into, which eventually transferred into its future cars when the time came for the 993. When the Turbo was released in 1996, it employed twin turbocharging courtesy of the Porsche 959's developments, and was the first Turbo to use permanent all-wheel drive which also was a result from the Porsche 959 program. With its 3.6-liter engine with air-to-air intercoolers, performance skyrocketed to 400 horsepower which dropped its 0-60 time dramatically. Porsche then one upped themselves in 1997, the second-to-last year of the 993 production, by introducing the Turbo S. With only 183 cars produced for the U.S. market with a worldwide total of 345, the 993 Turbo S is one of rarest versions of the Turbo S lineage.
Authenticity