1963 Jaguar-XKE Series 1 3.8 OTS
Specifications

Stock:
J63-320
Current condition:
SHOW
Performance:
3.8L, 6 Cylinders, 3 SU Carbs
Transmission:
4 Speed Manual
Suspension:
Independent Front / Rear
Color exterior:
White
Color interior:
Red
Features:
Tools, Knock Off Hammer, Jack, Owner's Manual
Wheels:
Chrome Wire Wheels
Tires:
Vredestein 185/15
Brakes:
Front & Rear Disc Brakes
Vin #:
879320
Engine #:
RA 1799-9
Gearbox #:
EB 9968 JS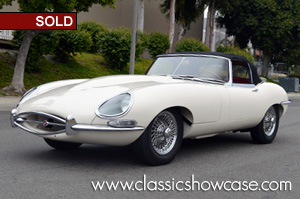 Description
(SOLD) This 1963 Series 1 E-Type has recently benefitted from a comprehensive, professional restoration by Jaguar professionals. The matching-numbers car is presented in a spectacular color combination of White over Red, with a Black convertible soft top. The E-Type has had over $200,000 worth of restoration work performed, and includes many new parts throughout; during the restoration process, the car was stripped to bare metal, metal finished, fitted, primered sealed, painted, wet sanded and buffed to the beautiful finish you see today. In addition, the trimmers at Classic Showcase made a custom-tailored interior in the correct and proper materials. The car's systems were gone through and the work included rebuilding the engine, transmission, and rear end. The Roadster stands in spectacular condition, and is ready to be shown at your favorite Concours event, or may be simply driven and enjoyed along your favorite road or highway. The car comes complete with a set of Concours quality tools, knock off hammer, jack, owner's manual and complete documentation and receipts for the restoration work performed. This E-type has many nice features that collectors look for, and presents a fantastic opportunity to own one of the most coveted classic Jaguars ever made.

View a YouTube video overview and road test of the Roadster below: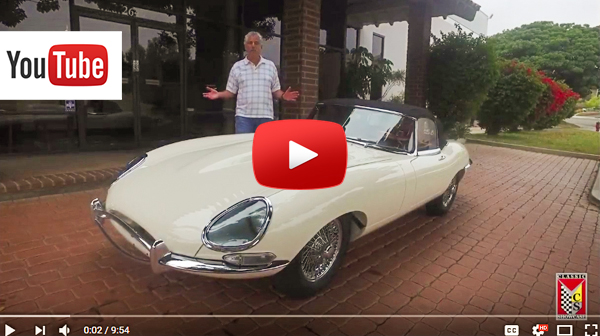 History
The Series 1 was introduced, initially for export only, in March 1961. The domestic market launch came four months later in July 1961. It can be recognized by glass covered headlights (up to 1967), small "mouth" opening at the front, signal lights and tail-lights above bumpers and exhaust tips under the license plate in the rear. The Series I E-type is the most desirable of all the series with a 4 speed transmission, covered headlights, toggle switches on the dash, updated with late Series I comfortable bucket seats, center console, and arm rest. This makes the best driver and the most collectable for an investment. It is a timeless example of class and elegance joined with the strong racing history that Jaguar has become so well known for.
Authenticity