1986 Ferrari 328 GTS
Specifications

Stock:
FE86-995
Current condition:
SHOW-DRIVER
Performance:
3,185 cc DOHC 32-valve V-8 engine, 267 HP at 7,000 rpm
Performance options:
Bosch K-Jetronic electronic fuel injection
Transmission:
5 speed manual
Suspension:
4 wheel independent suspension with double wishbones, coil springs, and anti-roll bars
Color exterior:
Red
Color interior:
Black
Features:
Alpine AM/FM/Cassette Stereo; Original Jack in Bag & Roadside Equipment
Mileage:
22,327
Tires:
Front: Dunlop Sport Max 205/55/16; Rear: Dunlop Sport Max 225/50/16
Brakes:
4-wheel hydraulic ventilated disc brakes with ABS
Vin #:
ZFFWA20B000059995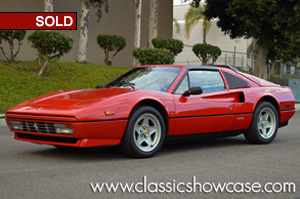 Description
This spectacular Red over Black 1986 Ferrari 328 GTS is full of originality and a great starting point in Ferrari ownership. Recently discovered as a "garage find" after being stored for several years, the car features a striking Red exterior, which was repainted by professionals using Sikkens paint. After rediscovery, the Ferrari was professionally serviced and evaluated, which included a compression test confirming a healthy engine with a PSI of 185-200 measured on all 8 cylinders. An oil and filter change was also performed, along with a full detailing of the car. The Ferrari retains its original interior, glass, and factory-applied decals – which include the import VIN tag on the door, as well as the Rosso Corsa BASF Glasurit paint-code sticker on the trunk. The car's original jack and storage bag, as well as factory roadside equipment accompany the car.

More recently, our team has just performed a 30,000mi major service and adjustment to the car, along with a full rebuild of the water pump. Replacements included the following: timing belt, tensioner assembly & both idler bearings; all V-belts and filters; The car's engine and gearbox oil was changed, along with a complete flush of the cooling and brake systems. We have cleaned the spark plugs, and fully inspected & tested the engine's cap / rotor / spark plug wire assemblies. Our master technicians have also fully inspected and adjusted the car's brakes, shocks, tires, suspension bushings & all cooling lines, all of which are in exceptional operating condition.

With so much of the car's originality intact - coupled with a host of professionally performed services and part replacements, this Ferrari 328 GTS stands as a fantastic example of a latter-day classic that is ready to take on your favorite drive at a pace only a Ferrari can deliver.
History
Launched at Frankfurt alongside the 3.2 Mondial 2+2 in 1985, Ferrari's Pininfarina-designed 328 built upon the successful mid-engine V-8 layout of the 308 GTB and GTS, also penned by Pininfarina. Featuring taut bodylines clearly descended from its predecessors, the 328 was offered in Berlinetta (GTB) and Targa (GTS) forms. Aerodynamic improvements ushered in by the 328 included masterfully integrated bumpers, a new frontal treatment with a wide grille, and a discreet rear spoiler atop the rear roofline. Mechanical updates included a larger-displacement 3.2-litre V-8 engine, hence the new Ferrari's '328' designation, denoting 3.2 litres and eight cylinders. A recent Octane magazine piece summarized the 328 best, stating "There's the same glorious howl from the mid-mounted quad-cam V-8 but, in the 328, it uses an extra 200 cc to provide 30 horsepower more than its predecessor along with a lot more torque." That extra power made the 328 capable of accelerating from rest to 60 mph in under 6.0 seconds en route to a 163-mph top end, representing a significant performance increase over the prior 308. The 328 was produced for only four years until the fall of 1989 when the 348 ts debuted. Just 7,412 examples of the 328 GTS were produced, with the GTS Targa the most popular at 6,068 cars, outselling the GTB by a factor of five to one.