1964 Jaguar-XKE Series 1 3.8 OTS
Specifications

Stock:
J64-948
Current condition:
SHOW-DRIVER
Performance:
3.8 Inline 6 Cylinder, 3 SU Carburetors, 265 HP
Transmission:
4-speed manual
Suspension:
Independent Front / Rear
Color exterior:
Gunmetal Grey
Color interior:
Red
Mileage:
Limited test miles after restoration
Tires:
185x15
Brakes:
Disc
Vin #:
880948
Engine #:
RA5217-9
Gearbox #:
EB 13336 JS
Other 1:
Body Number: R7764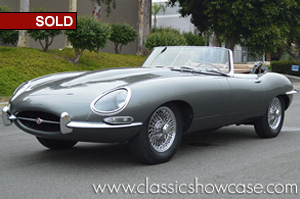 Description
(SOLD) This 1964 E-Type has just completed a Show/Driver level restoration by Jaguar professionals at Classic Showcase. The XKE has been rotisserie-restored, and has received a new finish of Gunmetal Grey, complimented with a perfectly fit Red leather interior and convertible top done in the proper and correct materials by our upholstery department. The E-Type was dissembled, and all parts were fully documented and inspected. The vehicle body was worked, the metal finished, fit, and leaded as needed, and all body parts and chrome are being perfectly fit to the car. All parts were individually painted off the car in the booth, then primed and sealed with base coat applied, clear coated, and finally color sanded and buffed to a beautiful finish. All mechanical systems were gone through and restored, or replaced as necessary. With such coveted features such as covered headlights, Triple SU carbs, toggle switches, and comfortable seats, this 1964 E-Type is full of the style and class that classic Series 1 E-Types are known for. This XKE will make a great companion along your favorite driving route, or as an excellent choice to campaign at local and regional classic Jaguar-related events. An MP4 video documenting the Roadster's restoration process and JDHT COA accompanies the car.

View a YouTube pictorial video overview of the car's restoration process below: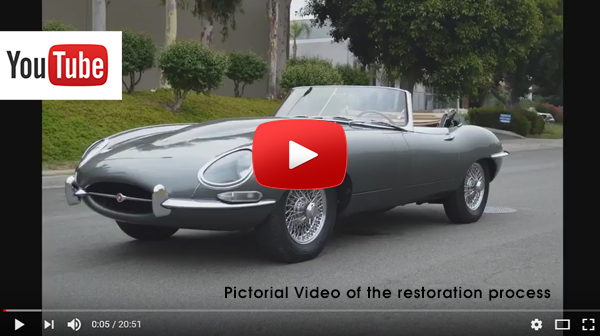 History
All 1964 E-Types featured independent coil spring rear suspension, and with torsion bar front ends, and four wheel disc brakes, in-board at the rear, all were power-assisted. The Series 1 can be recognized by glass-covered headlights (up to 1967), small "mouth" opening at the front, signal lights and tail-lights above bumpers, and exhaust tips under the number plate in the rear. This Jaguar is the early Series I E-type 3.8 Roadster. It has a 4 speed transmission, covered headlights, toggle switches on the dash, and the early-style leather-upholstered bucket seats. It is a great candidate for taking to a high level restoration.
Authenticity