1962 Jaguar Mark II 3.8 Sedan
Specifications

Stock:
J62-884
Current condition:
SHOW
Performance:
3.8L 6 cylinder w/overhead cam with 2 SU carbs
Transmission:
5 speed manual
Color exterior:
Opalescent Maroon
Color interior:
Tan
Wheels:
Steel Wheels with Hubcaps
Brakes:
Disc
Vin #:
177884
Engine #:
KH3290-8
Other 1:
Body: E051460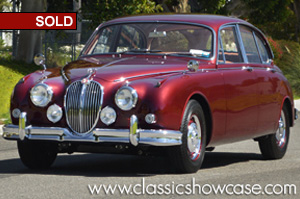 Description
This 1962 Jaguar Mark II 3.8 Sedan is a spectacular example that was the recipient of a no-expense-spared, comprehensive bare-metal restoration by Jaguar experts at Classic Showcase. The car is in an attractive color combination of Opalescent Maroon over a Tan interior, providing a distinctly elegant look to an already great style.

The restoration process included the following: The vehicle was fully disassembled, body stripped to bare metal, metal worked the body, doors, bonnet and boot, then fitted to the body, epoxy sealed, painted, color sanded and buffed; new rubber, seals, grommets and gaskets, trim and all bright work was re-plated. Our upholstery department custom made, fitted and installed a new proper interior including leather seats with new padding, panels, dash, custom made Coco floor mats, carpet, insulation, headliner, and Dynamat sound deadening material. The seat frames were restored. The burl wood in the car was carefully removed from the car, stripped, re-veneered, and refinished. A fully restored steering wheel and quartz clock were added as well.

The engine block was rebuilt to factory specifications and calibrated with new pistons, oil pump, water pump, timing chain, bearings and seals. The head received new valves, guides and seals. The carburetors were rebuilt and the car received a new clutch and hydraulic system, it's drive shaft balanced, shocks restored, and the chassis and other parts refinished in their correct finish; new suspension bushings and seals, a completely new wire harness, aux. fan, gas tank restored and epoxy sealed, new fuel pump, all electrical components, gauges, knobs, switches rebuilt, and the addition of a battery tender, and new stainless steel exhaust system. The rear end was completely rebuilt along with the addition of a new alloy radiator and new 5-speed transmission with gear reduction starter added to the car. It features an AM-FM stereo system with iPod/iPhone jack, Air Conditioning, 5 new tires, and an upgraded power steering rack - which greatly improves handling and drive-ability. The car comes complete with an MP4 video of the restoration work performed, along with a JDHT Certificate.

This Mark II is a unique, one-of-a-kind example that is ready to drive and enjoy now, or as a great example to campaign in modified classic Jaguar related events and shows.
History
Adhering to William Lyons' maxim of "grace, pace and space", the Mark II was a beautiful, fast and capable saloon car. It came with a 2.4 L, 3.4 L or 3.8 L Jaguar XK6 engine. The 3.4 is similar to the unit used in the 3.8 E-Type (XKE), having a different inlet manifold and carburetion (two SUs versus three on the E-Type in Europe) and therefore 30 bhp less. The head of the six cylinder engine in the E-Type was also different with its "straight port" layout as opposed to the slightly curved ports of the Mark II. The 2.4 was fitted with twin Solexes, of which three were used in US spec 3.4s and 3.8s in order to meet smog emissions legislation. This reduced power output over the equivalent SU carbureted examples. The Mark II model was raced successfully in the European Touring Car Championship.