1961 Jaguar-XKE Series 1 3.8 OTS
Outside Bonnet Latch
Specifications

Stock:
J61-132
Current condition:
UNDER RESTORATION
Performance:
3.8 Liter, 6 cylinder, 3 SU carbs
Transmission:
4 speed manual
Suspension:
Independent front and rear
Color exterior:
Opalescent Dark Blue
Color interior:
Red
Mileage:
less than 100 test miles after restoration
Wheels:
Chrome Wire Wheels
Tires:
Wide Whitewall 6.5 x 15
Brakes:
Front & Rear Disc
Vin #:
875132
Engine #:
R1203-9
Gearbox #:
EB303 JS
Other 2:
Body Number: R1166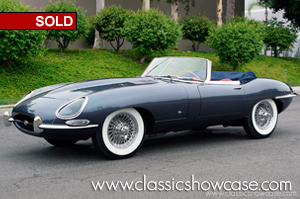 Description
Classic Showcase is in the final stages of completing a comprehensive no-expense-spared, nut and bolt rotisserie restoration to the 132nd Jaguar E-Type Roadster ever produced. This first-year production run example exhibits all the early sought-after Series 1 features these cars are known for, including flat floors, welded louvers, and outside bonnet latches.

Our team of master craftsmen and technician are finishing the process of getting this iconic example of Jaguar history back to factory standards, and have elevated this already special car to some of the highest Concours standards possible. This E-Type is an excellent candidate for campaigning in your favorite Show or Concours event, making it a wonderful choice for the discerning Jaguar collector looking to pedigree an exceptional, first-generation E-Type example.
History
The Series 1 Jaguar XKE was introduced, initially for export only, in March 1961. The domestic market launch came four months later in July 1961. The cars at this time used the triple SU carbureted 3.8 liter 6-cylinder Jaguar XK6 engine from the XK150S. The first 300 cars built had flat floors and external hood (bonnet) latches. These cars are rare and more valuable. The outside bonnet latch is the most sought after of all the Series I E types. Only 500 external bonnet latch cars were made, of those, 385 were left-hand drive roadsters, 20 left hand drive coupes, 91 right hand drive roadsters, and 4 right-hand drive coupes. After that, the floors were dished to provide more leg room and the twin hood latches moved to inside the car.
Authenticity