1968 Jaguar-XKE Series 1.5 4.2 OTS
Specifications

Stock:
J68-046
Current condition:
DRIVER
Performance:
4.2 Liter, 3 Stromberg Carburetors
Transmission:
4 Speed Manual
Suspension:
Independent Front / Rear
Color exterior:
Red
Color interior:
Black, with Black top and boot
Features:
AM-FM-Casette Stereo
Mileage:
71,658
Wheels:
Chrome Wire Wheels
Tires:
Michelin Radial XH4 205/70/15
Brakes:
Disc Brakes, Front and Rear
Vin #:
1E16046
Engine #:
7E14413-9
Gearbox #:
EJ15944
Other 1:
Body Number: 4E7992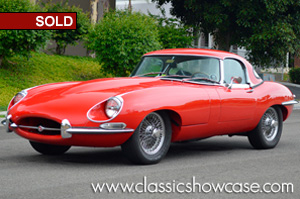 Description
(SOLD) The E-Type Roadster presented here is a special 1968 example, and one of the few XKEs popularly known by collectors and enthusiasts as the "Series 1.5". These E-Types were produced between Series 1 and 2 models, and retain the very favorable 4.2 liter engine and utilize the open headlight bonnets; otherwise, Series 1.5s are very similar to the Series 2 line of cars.

This particular example comes from a collection, and is a fine entry-level Roadster that our Master Technicians have recently serviced and road tested - just in time for the upcoming Spring and Summer driving seasons. This Roadster is a great choice for the first time XKE collector, or for the serious collector who is looking for a unique XKE to take to a higher show-level restoration; regardless of the application, this very unique fiery Red over Black Roadster is ready to deliver the excitement and joy that only a classic Jaguar can deliver.
History
The Series 1.5 E-Type Jaguar, referring specifically to the 1968 model year vehicles produced for the US and Canadian markets. With respect to right hand drive ("RHD") markets, it appears that RHD markets did not receive the Series 1.5 specification cars throughout the 1968 model year. Rather, RHD markets received a closer continuation of the Series 1, known unofficially as the Series 1.25 (essentially a Series 1 vehicle in every respect, with the exception of open headlights). Although not officially recognised as a distinct series by Jaguar, the Series 1.5 cars are unique as they contain certain features of both the Series 1 and Series 2 cars. The Series 1.5 name has therefore been broadly adopted to categorise these particular vehicles. Approximately 5,621 vehicles were produced within the chassis number range for the Series 1.5 E-Type, all of which were built between August 1967 and July 1968 (The Series 2 was then produced from August 1968).