1967 Jaguar-XKE Series 1 4.2 OTS
Specifications

Stock:
J67-098
Current condition:
DRIVER
Performance:
4.2 Liter, 3 Stromberg Carburetors
Transmission:
4 speed manual
Suspension:
Independent Front and Rear
Color exterior:
Black
Color interior:
Red with Black top
Features:
Period-Correct AM-FM Stereo
Mileage:
78,803
Wheels:
Chrome Wire Wheels
Tires:
185/15
Brakes:
Disc Brakes, Front and Rear
Vin #:
1E15098
Engine #:
7E-6986-9
Gearbox #:
EJ13813
Other 1:
Body Number: 4E6881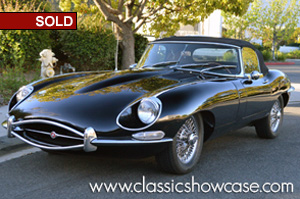 Description
(SOLD) The beauty offered here has been restored by a Jaguar collector several years ago, and it presents very well today. We have freshened it up for its new home, and recently rebuilt its correct series engine. The original matching numbers block will accompany it upon the purchase. It has less than 100 test miles on the engine since the work was completed. Classic Showcase also did quite a bit of service work, and improvements, to an already nice car. Outfitted in its original factory black exterior and red leather interior, it matches its Heritage Certificate, and also comes with a period correct Blaupunkt AM/FM stereo. It has the distinguished Series I features of toggle switches, triple carbs, and the more comfortable 4.2 seats, but it is a late production 1967, so people consider it a Series 1.25 E-type. The only difference between the Series I and 1.25 is that it has open headlights. This is a great opportunity to get a factory black and red XKE, that is a great driver and is priced for today's market.

View a YouTube video overview of the Roadster below: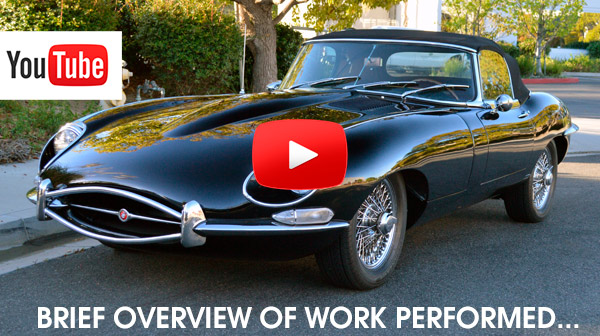 History
Launched in 1961 at the International Motor Show in Geneva, Switzerland, the Jaguar XKE echoed the sensation of the XK-120, perhaps even more. An astonishing performance package, with amazing speed and handling, the Jaguar XKE's brand-new 4-wheel independent suspension system was so well conceived, it was used by Jaguar for over thirty years. The Series 1 4.2 is a very user friendly, sporty driver, and one of the most collectible of the E-Types. These are wonderful cars with a 4.2 liter engine with three SU carburetors and a fully synchronized transmission. Some of the features of this model are toggle switches, full instrumentation with styling and a design that was way ahead of its time with center console, and arm rests. Other features of this Series 1 are its steep windshield and tail lights, which are placed above the bumper line in the rear deck. Similarly, the parking lights are above the front bumper line in the front fenders. In 1964 when the 4.2 was tested, fuel consumption was rated road reported at 22 MPG and a top speed of 140 MPH.
Authenticity