1959 Porsche 356 A Convertible D
Specifications

Stock:
P59-720
Current condition:
SHOW-DRIVER
Performance:
1582 cc, flat 4-cylinder engine, 1.6-liter, overhead valve (OHV), naturally aspirated, 59 bhp
Transmission:
4 speed manual
Suspension:
Four-wheel independent suspension
Color exterior:
Ruby Red
Color interior:
Light Brown
Mileage:
3,213 since restoration
Tires:
Pirelli P4 185/65/15
Vin #:
85720
Engine #:
P*610402*
Gearbox #:
22647 / 644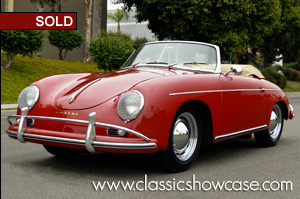 Description
Here is an incredible opportunity to own 1 of only 1,331 Porsche 356 A 1600 Super Convertible D models made. With very few caretakers over the last 50 years, this Porsche 356 A has been extremely well maintained and cared for its entire life. It includes a COA, which shows the car retains its original Ruby Red (Color Code # 5702) and Light Brown color combination, and is equipped with USA bumpers. The 356 A is fitted with a rebuilt matching-numbers 356 B engine - which was added by its previous owner to increase the power and performance of the car - note that the original 356 A engine cases are included with the purchase of this car.

The team at Classic Showcase is wrapping up a full service to the Porsche, along with a number of great improvements such as a new 6 volt battery, 5 new Vredestein 165/15 tires, and the full restoration of the car's steering wheel, gear shift & dash knobs and door escutcheons. Mechanically, we have serviced the carbs, distributor, performed an oil change, and installed a new master cylinder; in addition, we have scheduled the Porsche for a full detail, and photographs of the work being performed will accompany the purchase of the car. This Convertible D Porsche drives fabulously, and all its vital signs are excellent. There are no disappointment in this very well sorted example, and it is ready for your favorite highway, scenic mountain or coastal drive, or to just be a nicely respected example on the show field.
History
The Porsche 356 A 1600 Super Convertible D is a 2-door convertible/cabriolet-bodied car with a rear positioned engine supplying power to the rear wheels. The 4 cylinder, overhead valve naturally aspirated power plant has 2 valves per cylinder and a displacement of 1.6 liters. It has 2 Solex/Zenith 32 NDIX carburetors. By 1958 the Speedster model was four years old, and sales were declining. Porsche realized that significant improvements were necessary to attract buyers, despite the market for a "weekend racer". The Porsche 356A Convertible D was the replacement in 1959, and with Reutter coachworks straining to keep up with the demand, Porsche contracted with the Drauz Company in Heilbronn to manufacture the bodies for the Convertible D (the "D" stood for Karosseriewerke Drauz KG). The new "Convertible D" featured a taller, more practical windshield allowing improved headroom, roll-up glass side-windows and far more supportive seats. The Convertible D model is arguably the rarest production Porsche 356 model ever manufactured for a full year, with just 1,331 produced between August 1958 and September 1959, with a fraction of those (estimated at 300) ordered with the high compression Super engine. Today's market feels quite differently, and clearly the late Type A Super cars remain the high-water mark for 356 collect-ability.
Authenticity