1962 MG A Mark II Deluxe Coupe
Specifications

Stock:
MG62-118
Current condition:
ORIGINAL-PRESERVED
Performance:
1622 cc engine, 67 kW / 90 hp / 91 PS (gross), twin SU Carburetors
Transmission:
4-Speed manual gearbox with synchromesh
Suspension:
Competition Suspension; Front: independent double wishbones, coil springs and Armstrong lever arm shocks Rear: semi-elliptic leaf springs and Armstrong lever arm shock absorbers
Color exterior:
Chariot Red
Color interior:
Black
Mileage:
55,434 miles
Wheels:
Painted wire wheels
Tires:
165/15 Firestone Radials
Brakes:
Four-wheel disc brakes
Vin #:
62GHDL2105118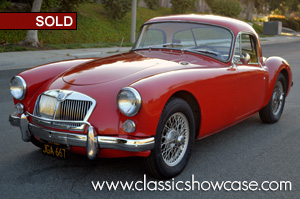 Description
(SOLD) This "Deluxe" model has the distinction of being one of the rarest MG's, and one of the prettiest sports cars ever made. Blessed with delicate, flowing lines, the MGA's endearing form is the reason behind its magnetic appeal. We purchased it from its 2nd owner, who had only owned it from late 2013 until now. The original owner passed away, but had used it for his daily transportation where he lived. The 2nd owner did not drive it very much as he was too big for this car, and thus it was passed along to our care. It displays nice patina, and is in its original color combination of Chariot Red over Black. It would benefit from a cosmetic restoration, but it still shows well today. It comes complete with its: original Drivers Handbooks, BMC Maintenance Covenant, Accessories book, several MG magazines, the original Bill of Sale, a file of receipts, its tools, and a jack. You are welcome to buy the car "as is", or commission Classic Showcase to restore it for you in any color combination you wish, and with which ever amenities your desire.


History
The high-performance MGA Twin Cam remained in production until 1961, after which some 2,210 rolled off the Abingdon assembly line, which was quite low compared to the 58,750 1500's that were produced. But when the Twin Cam's production ended, there were still so many of its distinctive components left over that MG decided, instead of scraping them, to install them on some of the 1600 Mk I and Mk II's; thus, was born the MGA "Deluxe". Although the MGA "Deluxe" was the only MGA model not given a separate identity, it has the distinction of being the rarest MGA ever made. A mere 82 examples were made using the 1600 engine, while just 313 of the more desirable Mk II "Deluxe", which used the more powerful 1,622 cc engine and close-ratio gearbox--were built. Today, the "Deluxe" is the most sought after MGA to own because it combines all the fine attributes of the Twin Cam model, such as its chassis, knock-off solid wheels and four-wheel disc brakes; but instead of the somewhat troublesome twin-cam engine, it has the ever-durable B-series engine, making it the one MGA that incorporates the best of everything.

The "Deluxe" is essentially a Twin Cam car with a push rod engine. It will have all of the earmarks of a Twin Cam car except for having the push rod engine in place of the Twin Cam engine. The "Deluxe" also has the push rod car type heater box (when fitted) with air inlet hose on the right side.