1966 Ford Shelby GT350 Fastback
Specifications

Stock:
FO66-222
Current condition:
SHOW-DRIVER
Performance:
289 cubic-inch V8 engine, 4.7 L., 470 hp; Original motor accompanies purchase
Transmission:
Ford 4 speed Manual, close ratio top loader transmission
Suspension:
Front suspension: double wishbones, coil springs, Koni shock absorbers, anti-roll bar Rear suspension: live axle, trailing arms, semi-elliptic leaf springs, Koni shock absorbers
Color exterior:
Blue with white racing stripe
Color interior:
Black
Mileage:
Race car, no mileage
Wheels:
American Mags, 2 sets 7" x 15", 1 set 8" x 15"
Tires:
Front and Rear 600–15. Good Year
Brakes:
Front Brakes: ventilated discs, 287 mm (11.3 in), 4-pot caliper Rear brakes: drums, 254 mm (10 in)
Vin #:
SFM6S222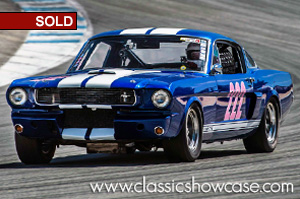 Description
(SOLD) This stunning blue with white racing stripe Shelby GT350 is called a "Carry Over Shelby" and was built in 1965, but was held over, and titled as a 1966. It was dispatched 10/26/1965 to City Motors in National City, CA and its first owner was W. R. Evans.

It has been set up for vintage racing with an R-Model apron, fuel cell, and fire system, as well as a race clutch and locker rear end. Even though it is driveable on the surface streets, it would not be as much fun. It is presently race prepped, and was race prepped before every race.

It was repainted in 2001 and won 2nd place in the Shelby Competition class by popular vote at the SAAC-27 California Speedway in the summer of 2002. It ran the GT350/Trans Am Race at SAAC-27, and at the same event, it qualified 26th, finishing 22nd. It ran the high speed even at SAAC Does Vegas-8 in July of 2004, and the SAAC Does Vegas-10 in February 2006. Since 2001 it has raced at thirteen Coronado Speed Festival events (San Diego, CA); seven Wine Country Classics (Infineon Raceway); eleven Monterey Historic (Laguna Seca, CA); three Seattle Historic races (Pacific International Raceway Seattle, WA); two Portland Historics (Portland, OR); and multiple VARA races at the Phoenix International Raceway, Willow Springs, Buttonwillow, Las Vegas, and Thunder Hill.

This car comes with its original matching numbers engine (which is currently not installed the car), an extra set of race wheels and tires (for different race track conditions), and a log book.

Here are some of its specifications:

Vintage legal 289 w 470 hp.; Windsor iron heads with stock & roller rockers; Carrillo rods; custom Billet crank shaft; Aviad oil pan; custom stainless headers & exhaust; straight pipes; rear end located with Watts linkage; Galaxy radiator; Setrab oil cooler; close ratio top loader transmission; Ford 9' rear axle with two gear ratios with lockers: 3:89 & 4:33; Cool suit system; on-board fire suppression system; 3 sets of wheels; the driver & passenger Kirkey race seats come with 5-point belts; full cage around passenger compartment; R model parts: plexiglass rear window & wind screen; aluminum window frames in doors with plexiglass windows; fiberglass hood; dashboard & gauges; built & maintained by MAECO Motorsports. The original motor is on a stand, and accompanies the car upon purchase. It is rebuild able, but has not run in many years. It appears to have many of the original parts such as: Tri- "Y" headers, aluminum Cobra oil pan, aluminum Cobra intake and the block is stamped with Shelby VIN.
History
In late 1964, Ford Motor Company teamed with Carroll Shelby to build an all new sports car based on the new Ford Mustang Fastback. The goal was to create competition for Chevrolet's Corvette. On January 27, 1965, the competition arrived! At first glance, the Shelby GT350 looked like a regular Mustang fastback, but on closer inspection, looks were where the similarities stopped.

The 1965 Shelby GT350' s were white fastbacks shipped from Ford's San Jose plant without hoods and rear seats, but with disc brakes, a four-speed transmission, and the 271 hp 289 engine. The cars were then prepared by Shelby's crew. Some of the changes included: the engine was beefed up to 306 horsepower, the front suspension was lowered 1", the rear seat was replaced with a fiberglass panel that held the spare tire, the battery was relocated to the trunk area, and a fiberglass hood with a functional scoop was installed. Other changes included the installation of a 1" front sway bar, Koni adjustable shocks, rear traction bars which were located above the rear axle, a 9" rear end was added, a dash mounted gauge pod which housed a tachometer and oil pressure gauge, and 3" competition seat belts. The Mustang Shelby was basically a full bred race car that could be bought straight out of the Ford dealer's showroom. There were a total of 562 Shelby GT350' s built in 1965, 550 street models and 12 race models.

As production of the 1965 Shelby GT350's wound down, Shelby American began work on the 1966 version. In order for them to continue their operations during the Ford Assembly plant shutdown, Shelby American ordered 250 "K" Code 1965 Mustangs toward the end of the 1965 Mustang production run from San Jose. This ensured that they would have cars available to "carry-over" the Shelby American plant until they received their initial shipment of 1966 Mustangs. Those 250 cars, plus the two 1966 prototypes, make a total of 252 cars that started life as 1965 Mustangs, but were converted into 1966 GT350's. These cars are sometimes referred to as "carryover cars", "crossover cars", "change-over cars", "early '66 cars", "leftover '65's" or "65½ cars" and had a distinctive combination of 1965 and 1966 GT350 features.

These cars provided Shelby with enough inventory to start production of the 1966 GT350's during the July/August Ford factory shut down to re-tool for the upcoming 1966 models. Without these early cars from Ford, Shelby American would have had to shut down their assembly line for about a month and a half until the new 1966 Mustangs arrived in October.

The 1966 Shelby underwent some minor changes. Most of these changes were because Ford decided that they wanted to make a profit on the cars. This made some of the modifications that were originally considered necessary - unnecessary. 252 of the 1965 Shelby's were held over, and retitled as 1966's. These early models retained the 1965 changes. Some of the things no longer considered necessary were relocating the battery to the trunk and lowering the front A-arms. The rear traction bars which were originally installed over the axle were changed to simpler units that went under the axle. 14" wheels became standard, rather than the 15" units furnished previously. Since the 1966 Mustang's instrument cluster now included an oil pressure gauge, the instrument pod was discontinued, and a separate tachometer was mounted on top of dash pad. One of the biggest visual differences to the 1966 Shelby, was the replacement of the rear air extractor with a clear plexiglass window.

During the 1966 model year, Ford received a contract from Hertz Rent-a-Car for 1,000 specially prepared units. Although they didn't quite make the 1,000 mark, they came close. 936 Hertz Shelby GT350' s were produced in 1966. All Hertz units were supplied with gold side stripes that read, G.T.350H. Most of the units also had gold LeMans stripes, but not all. The Hertz models were shipped with chrome Magnum 500 wheels. The very early Hertz models were shipped with a 4-speed transmission, all of the rest had automatics. There were a total of 2,378 1966 Shelby GT350' s built. Of these, 1,433 were street models, 936 were Hertz models, 3 were race models, and 4 were specially prepared convertibles. The convertibles were not offered for sale to the public, they were for Carroll Shelby's friends, his secretary, and himself.