1964 Jaguar-XKE Series 1 3.8 OTS
Specifications

Stock:
J64-619
Current condition:
SHOW-DRIVER
Performance:
3.8 DOHC In-Line 6-cylinder engine, 265 HP 3 SU Carbs
Transmission:
4-Speed Manual Transmission
Suspension:
Independent front and rear suspension
Color exterior:
Golden Sand
Color interior:
Tan, with tan top and boot.
Mileage:
4877
Wheels:
Chrome Wire Wheels
Tires:
Michelin 185HR 15VMX Radials
Brakes:
Disc
Vin #:
880619
Engine #:
RA 3952-9
Gearbox #:
FJ12420
Other 1:
Body #: 7431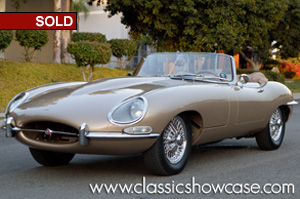 Description
(SOLD) This wonderful E-Type has previously undergone a comprehensive, documented restoration by Classic Showcase, and has benefited from a very recent full servicing and updating.

During the comprehensive restoration, no expense was spared in the show/driver restoration process. The fit, finish, and craftsmanship to the XKE is complimentary to the vehicle. Included in the restoration process: it was evaluated, inspected, and photographed, then disassembled, stripped to bare metal, placed on a rotisserie, metal finished, leaded, with all body parts fitted to the car as well as the chrome, primer preparation, sealer, paint, base and clear coat, finally color sanded and buffed to the fabulous finish you see today. All mechanical systems and components were rebuilt, serviced, restored or replaced as needed, including: the engine and transmission as well as the rear end and suspension. In addition, the engine block was hot tanked, line bored, and magnafluxed - which included all machining and calibration along with new pistons, rings, bearings, new water pump and machining the crank. Also installed, were new valves, guides, seals, timing chain, a completely rebuilt head, restoring and rebuilding of the SU carburetors, a new clutch system, fly wheel machining, new hydraulic system, new u joints installed and balancing of the drive shaft, new shocks throughout, and a rebuilt fuel pump. All other systems such as the electrical, hydraulic, cooling and fuel systems were restored or replaced, and the car received an all new wire harness, rubber, and grommets. All electrical components were gone through including the gauges, knobs, switches all restored, rescreened or replaced as needed. The car received a new exhaust system, new battery, the gas tank was hot tanked, painted, and epoxy sealed, and a brand-new alloy radiator and auxiliary fan was installed. All bright work was re-plated, and a new windshield and door glass were fitted. The vehicle features an original restored steering wheel, with restored top bows and seat frames as well. The car received a complete new custom tailored and fit interior in the correct materials by our upholstery department. This is a spectacular color combo, and a wonderful E-Type to enjoy and collect. A DVD of the restoration process accompanies the vehicle.
History
All 1964 E-Types featured independent coil spring rear suspension, and with torsion bar front ends, and four wheel disc brakes, in-board at the rear, all were power-assisted. The Series 1 can be recognized by glass-covered headlights (up to 1967), small "mouth" opening at the front, signal lights and tail-lights above bumpers, and exhaust tips under the number plate in the rear. This Jaguar is the early Series I E-type 3.8 Roadster. It has a 4 speed transmission, covered headlights, toggle switches on the dash, and the early-style leather-upholstered bucket seats. It is a great candidate for taking to a high level restoration.