1965 Jaguar-Projects XKE Series 1 4.2 OTS
Specifications

Stock:
J65-734
Performance:
265 hp, 4.2, 3 SU carburetors
Transmission:
4-speed, manual
Suspension:
Independent Front and Rear
Color exterior:
Opalescent Silver Grey
Color interior:
Black
Mileage:
35,538
Wheels:
Chrome Wire Wheels
Brakes:
Front and Rear Disc
Vin #:
1E10734
Engine #:
7E2743-8
Gearbox #:
EJ 1798
Other 1:
Body #: 4E1902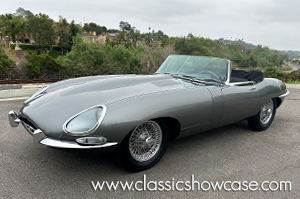 Description
Please note this car is for sale as a Classic Showcase Show/Driver level restoration.

This 1965 Jaguar E-Type is a fine numbers-matching core car to restore and elevate to a higher level; The XKE's first owner purchased it new in Paris, France, retains it's original color combination of Opalescent Silver Grey and a Black interior, and features several unique aesthetic and mechanical differences, including Euro-style marker lights, and 8:1 compression ratio engine. If you are interested in commissioning a restoration to this E-Type and wish to keep the 8:1 compression ration instead of the common 9:1 ratio found in North American versions, please contact us to discuss this and many other options available.

Included in the restoration process, the vehicle will be stripped to bare metal, placed on a rotisserie, metal finished, leaded, all body parts fitted to the car and chrome, prepared for primer, sealer, paint, base, clear, color sanded and buffed to a fabulous finish. We will be painting it its original color of Opalescent Silver Grey. All systems will be gone through and restored: the fuel, electrical, cooling, and hydraulic system. All components will be rebuilt back to factory specifications, including the engine, transmission, rear end and suspension. The chrome will be re-plated as needed. The car will receive a complete new custom tailored and fit black interior in the correct materials by our upholstery department. A JDHT certificate of authenticity and a video of the restoration process will accompany the vehicle. Upon completion of the restoration this Jaguar will be a great example to drive, show, and enjoy.
History
Launched in 1961 at the international motor show in Geneva, the XKE echoed the sensation of the XK-120, perhaps even more. An astonishing performance package, with amazing speed and handling, the XKE's' brand-new 4-wheel independent suspension system was so well conceived, it was used by Jaguar for over thirty years. The Series 1 4.2 is a very user friendly, sporty driver, and one of the most collectable of the E-Types. These are wonderful cars with a 4.2-liter engine with 3 SU carburetors and a fully synchronized transmission. Some of the features of this model are covered headlights, toggle switches, full instrumentation with styling and a design that was way ahead of its time with center console, and arm rests. Other features of this Series 1 are its steep windshield and tail lights, which are placed above the bumper line in the rear deck. Similarly, the parking lights are above the front bumper line in the front fenders. In 1964 when the 4.2 was tested, fuel consumption was rated road reported at 22 MPG and a top speed of 140 MPH.
Authenticity