1951 Jaguar XK-120 3.4 OTS
Specifications

Stock:
J51-318
Current condition:
SHOW
Performance:
3,442cc double overhead camshaft 3.4 engine, 2 SU carbs
Transmission:
4-Speed Manual
Suspension:
Independent torsion bar front, semi-elliptic leaf springs rear
Color exterior:
Black
Color interior:
Tan with Black Top
Wheels:
Chrome Wire Wheels 5x16
Tires:
Wide White Walls
Brakes:
Drum
Vin #:
671318
Engine #:
W3068-8
Gearbox #:
JR6433
Other 1:
Body Number: P3141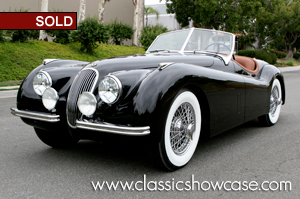 Description
(SOLD) This numbers matching, limited ownership, 1951 Jaguar XK-120 OTS is a striking example of the vehicle that set the land speed record and changed racing forever. Beyond pure performance, the Jaguar XK-120's were known for their looks. The sculpted body lines on this roadster are factory correct and flawless with solid metal and correct leaded seams where appropriate. This piece has been beautifully restored to a Show level by Classic Showcase, with no expense spared. It is one to impress. The deep piano black paint is polished to a high luster, only to be out-shined by the high-quality chrome and stainless trim pieces. This lead to it receiving the moniker "Black Magic". The interior is dressed in new Tan leather which gives it a very elegant look. All the gauges and instrumentation work properly and are in very good condition as well. The body is extremely straight and clean. Under the hood is the inline six-cylinder twin carburetor engine that made this car the fastest production car of its day. The engine compartment is as nice as the exterior of the car. The cam covers are highly polished, and the four-speed manual transmission puts the control in your hand. Since it completed its restoration, this beauty has been extensively campaigned and has won numerous 1st place awards at various JCNA sanctioned concours and took 2nd place overall in the Regional JCNA standings. Two of the non-JCNA 1st place awards were won at the La Jolla Concours in La Jolla, CA, and the Cars on Carmel in Carmel, CA.

It is not often you can buy a car that has been restored in a high level, been campaigned, and kept in immaculate condition. This XK-120 OTS is an amazing find for any collector who is looking to add a Concours quality Jaguar to their collection. Purchase includes the Heritage Certificate verifying its authenticity, tools, owner's manual, and a DVD of the restoration.
History
During the Second World War, William Lyons and his staff designed what would be the world's first high-volume twin cam engine. After the war, a short wheelbase chassis and a two-seat sports body were married to this new engine and when the XK 120 was introduced at the 1948 Earl's Court Motor Show. The XK 120's body was a fresh, minimalist design with gracefully flowing curves running front to back, while the modern chassis design provided excellent handling. The XK inline six-cylinder engine, originally producing 160 horsepower, was mated with a four-speed manual transmission, and provided phenomenal performance. The XK 120 earned its name from when Jaguar was racing their cars. The car reached 120 mph!
Authenticity