1975 Jaguar XJ12C V12 Coupe
Specifications

Stock:
J75-127
Current condition:
DRIVER
Performance:
5343 cm3 / 326 cui, Bosch-Bendix-Lucas D-Jetronic SOHC, 244 hp (SAE net)
Transmission:
Borg Warner BW 12 automatic 3-speed, RWD
Suspension:
Power-assisted Rack & Pinion
Color exterior:
Maroon, with Tan Top
Color interior:
Tan
Features:
Retrosound AM-FM-iPod/iPhone capable Stereo
Mileage:
26,400 showing
Wheels:
Chrome Wheels
Tires:
Firestone FR710 205/70/15
Vin #:
UF2650127BW
Engine #:
7PN25302 LB
Gearbox #:
27562
Other 1:
Body Number: 5G1231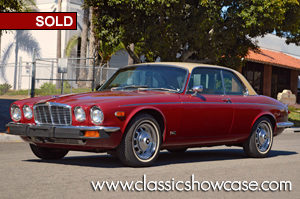 Description
(SOLD) This 1975 Jaguar XJ12C Coupe is an extraordinary automobile, exquisitely maintained and amazingly preserved with low original miles since new. Very original throughout, even down to the high-quality paint, it has chrome wheels, Firestone tires, an automatic transmission, Retrosound AM-FM-iPod/iPhone capable Stereo, air conditioning and 244 horsepower electronic fuel injected engine. It has a history of sympathetic ownership which shows when you see the condition of its gleaming Maroon paint, and the rich Tan upholstery and interior trim.

Classic Showcase has performed the following service work to it to make it a great High-End Driver level car:

• The engine bay was thoroughly detailed
• We changed all the worn vacuum and fuel lines, and it received all new hoses under the bonnet
• Freshened up the interior
• Performed some paint work the inside of the bonnet to make it look much nicer
• Sun visors were made and installed
• The heads were machined and rebuilt
• Replaced the intake/exhaust valves and guides, head gaskets
• Replaced the timing chain tensioner, the battery bracket, ignition module, and insulation
• Replaced the radiator core and thermostat
• Replaced the transmission mount

It is a very nice driving example XJ12C coupe that offers the new owner the best of Jaguar's famed 'Grace, space and pace' in a beautiful 4-seat hardtop coupe with the smooth V-12 power and a full range of comfort and convenience features. Well-preserved automobiles like this Jaguar XK12C are rarely found and represent excellent values that will be proudly owned, driven and displayed at any gathering of Jaguars.
History
The XJ sedan was introduced in 1969 paralleling the XKE with a larger, more comfortable four-door body while retaining the E-Type's proven drive train and independent rear suspension. A few years later in 1974 the Series III's V-12 engine with 241 horsepower was added to the XJ as well and brought the sedan, and a new two-door hardtop XJ coupe, to new levels of performance. Lovely to look at, comfortable to occupy and surprisingly quick on the road, the XJ12C opened new markets to Jaguar with a design that is even more attractive than the XJS coupe that followed a year later.