1954 Jaguar XK-120 3.4 SE FHC
Specifications

Stock:
J54-469
Current condition:
ORIGINAL-PRESERVED
Performance:
3,442 cc double overhead camshaft inline 3.4 engine, 2 SU carbs
Transmission:
4 speed manual
Suspension:
Front suspension: Koni shocks Rear suspension: The rear end has been converted to tube shocks with traction bars
Color exterior:
Black
Color interior:
Blue
Features:
Smith's Mobile AM Radio
Mileage:
62,271
Wheels:
Chrome Wire Wheels
Tires:
6.00.16 Wide White Walls
Brakes:
Four-wheel drum brakes
Vin #:
S681469
Engine #:
F 29359S
Gearbox #:
JL 22195
Other 1:
Body Number: J 3632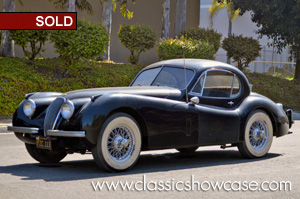 Description
(SOLD) This one owner since new, CA black plate XK-120 is a running and driving car. Built May 6, 1954, it was a special order from Charles Hornburg distributor in CA, used lovingly, and driven with great pride. One of only ten XK-120 FHC with a 9.1 compression engine, it has been a California car its entire life, and garage kept. Purchase includes the old entry forms from the 1955 and 1956 entry at Bonneville (In 1957 it has an entry letter, but the car as not able to attend) and some letters the prior owner wrote back in the 60's detailing the history of the car as well as a Heritage Certificate verifying its authenticity.

It can be purchased "as is" for you to restore as you wish, or you can purchase it, and have Classic Showcase restore it to the level of your choice.

In the past it has had some modifications made to it to make it a more reliable driver such as:

• A true dual exhaust with a cross over and glass packs have been fitted to the car
• The rear end has been converted to tube shocks
• Traction bars have also been added to the rear suspension.
• Fit with a XK140-150 voltage regulator and cooling fan
• Perfect Circle 98 oil rings on pistons
• Perfect Circle Teflon valve guide seals
• Addition Frantz oil filter assembly
• Perry water filter assembly
• Marvel mystery inverse top cylinder oiler
• Ed Iskenerian ground cams, .404 lift
• XK-150 water pump
• Factory installed sand cast carburetors
• The dual 6-volt batteries have been converted to a single 12 Volt

Recently, Classic showcase has woken the 120 up, and serviced the engine and it is presently in running and driving condition. With its highly stylish design and Special Equipment package, this fixed head coupe stands as a highly desirable model that is a great candidate for restoration.
History
During the Second World War, William Lyons and his staff designed what would be the world's first high-volume twin cam engine. After the war, a short wheelbase chassis and a two-seat sports body were married to this new engine and when the XK 120 was introduced at the 1948 Earl's Court Motor Show. The XK 120's body was a fresh, minimalist design with gracefully flowing curves running front to back, while the modern chassis design provided excellent handling. The XK inline six-cylinder engine, originally producing 160 horsepower, was mated with a four-speed manual transmission, and provided phenomenal performance. The XK 120 earned its name from when Jaguar was racing their cars. The car reached 120 mph! The XK 120 Coupe introduced in March 1951, added a steel roof, roll-up windows and a wood-trimmed interior, air vents, glove compartments, map containers in the door, sun visors, interior lights and foot-well vents. The faired-in front parking lights can be clearly seen. The rakish slant of the window frame adds to the sporting appearance. The engine and drive train were similar throughout the line and no distinct modifications were employed on the FHC.
Authenticity