1953 Jaguar XK-120 SE 3.4 OTS
Specifications

Stock:
J53-334
Current condition:
ORIGINAL-PRESERVED
Performance:
3.4 L, 3,442 cc double overhead camshaft inline 3.4 engine, 2 SU carbs
Transmission:
4 speed manual
Suspension:
Independent front torsion bar and rear leaf spring
Color exterior:
Cream
Color interior:
Suede Green
Mileage:
78,226
Wheels:
Chrome wire wheels
Tires:
General Jet Air 6.0 X 16
Vin #:
S674334
Engine #:
F1146-8S
Gearbox #:
JL19902
Other 1:
Body Numer: F6492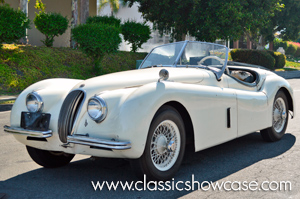 Description
SALE SPECIAL! Please click here for price. An amazingly original, numbers matching car, still dressed in its original color combination of Cream and Suede Green, this roadster was owned by two prominent Jaguar collectors who cared greatly about preserving the originality of this car. This 120 SE is in running and driving condition, and includes a Jaguar Heritage Certificate verifying its authenticity. We have known about this car for some time, but it was never available for sale until now. This is a wonderful opportunity to own a great car in Jaguar history. Built on November 24, 1953 it was dispatched from the Max Hoffman dealership of New York and sold to Dr. A.C. Wyken of Columbus, OH then sold to another collector in the same area, who took over caring for this special 120 SE until we purchased it from him.


History
In 1951 the 'SE' spec was introduced. In American markets it was called "MC" to note the car used the high-performance cylinder heads from the Jaguar C-Type Le Mans race car, along with largely SU carburetors, and dual exhaust pipes offering a power boost to 210 bhp at 5,750 rpm. Power was increased from 160 bhp to 190 bhp and wire wheels added to provide better cooling for the drum brakes. The optional 'C'-Type head upped the power output even further to an estimated 210 bhp.

During the Second World War, William Lyons and his staff designed what would be the world's first high-volume twin cam engine. After the war, a short wheelbase chassis and a two-seat sports body were married to this new engine and when the XK 120 was introduced at the 1948 Earl's Court Motor Show. The XK 120's body was a fresh, minimalist design with gracefully flowing curves running front to back, while the modern chassis design provided excellent handling. The XK inline six-cylinder engine, originally producing 160 horsepower, was mated with a four-speed manual transmission, and provided phenomenal performance. The XK 120 earned its name from when Jaguar was racing their cars. The car reached 120 mph!
Authenticity