1969 Jaguar-XKE Series 2 4.2 OTS
Specifications

Stock:
J69-274
Current condition:
SHOW-DRIVER
Performance:
4.2 6 cylinder, dual Stromberg carbs
Transmission:
4 speed manual
Suspension:
Independent Front and Rear
Color exterior:
Sable
Color interior:
Biscuit
Mileage:
24,200
Wheels:
Chrome Wire Wheels
Tires:
B.F. Goodrich Silvertown radial P205/65 15R Red Lines
Brakes:
Front & Rear Disc Brakes
Vin #:
1R9274
Engine #:
7R5175-9
Gearbox #:
KE6789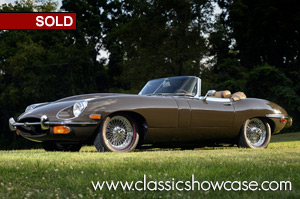 Description
(SOLD) This elegant 1969 Series II E-type was purchased by its previous owner from a local Jaguar enthusiast who had brought the car out of longtime storage in New England. Sometime later, he took the XKE to his local restoration shop where they performed the initial service to get the car driveable, and to verify the original mileage was in fact 17,052. The car was in good mechanical condition, but it's interior and top needed some work after sitting in storage; desiring a show car, the previous owner sought a major restoration soon after. After partially disassembling the car himself, he had the car transported to the local Jaguar restoration shop. The car was fully dismantled down to the "tub", and the paint was stripped down to bare metal. The restoration process took approximately one year - in which the wiring harnesses were replaced, all chrome and cadmium parts re-plated, gauges rebuilt, upholstery replaced, a SS exhaust installed, a new clutch and pressure plate installed, all the hydraulics were sent out to be rebuilt or re-sleeved, and new wire wheels and tires were added. Every nut and bolt of the car was attended to.

Since the restoration, the previous owner had the following installed: all new B.F. Goodrich Silvertown Radial P205/65 15R Red Line tires, new cloth top, new exhaust manifolds, new brake hoses, new coolant hoses, hydraulic brake fluid changed, new Evans coolant installed, new horns, valve pan covers machined and new gaskets installed, as well as the oil and filter changed. Currently, it has the K&N filters on the carburetors, but the original air filter comes with the car upon purchase as well as a small box of parts, hose clamps, etc. Purchase includes the tool roll, knock off hammer, jack, and Heritage certificate to verify its authenticity. This is a great car to show, drive, and enjoy.
History
Over time, experience and worldwide demand dictated many changes in the sublimely beautiful Jaguar E-Type. This culminated in 1968 with the introduction of the Series II, a substantial redesign that foreshadowed the final Series III V-12 that eventually debuted for 1971. Federal regulations in the U.S.A., Jaguar's most important export market, drove some of the Series II changes. This included revised lighting and the shift to a pair of carburetors in place of the earlier triple-carb arrangement. The well-proven 4.2-liter inline six-cylinder was little changed, although a higher-capacity water pump helped the E-Type adapt better to warmer climates. Braking was improved as well, with larger Girling disc brakes utilizing three-piston calipers at the front and two-piston units at the rear. Inside, more comfortable reclining seats with adjustable headrests were now standard. The Series II revisions marked the maturation of the landmark E-Type and made a great car even better.
Authenticity