1973 Datsun 240Z
Specifications

Stock:
DA73-430
Current condition:
SHOW-DRIVER
Performance:
2.4L, in-line 6 cylinder
Transmission:
4 speed manual
Suspension:
Four-wheel independent
Color exterior:
Silver
Color interior:
Black
Features:
Pioneer AM-FM stereo with CD, AUX, USB inputs with remote
Mileage:
99,553
Wheels:
Konig 15 inch Wheels
Tires:
Federal Formoza FD1
Brakes:
Disc Brakes
Vin #:
HLS30164430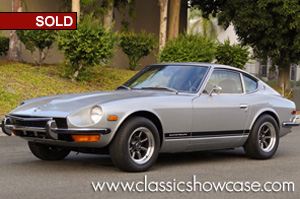 Description
(SOLD) This Datsun 240Z is a rust-free Sacramento, California car that has benefited from a single, long term owner for over 30 years, and has been passionately cared for and maintained throughout the course of its life. The car comes in a great color combination of Silver with a newly trimmed Black interior, and the 240Z's 2.4L engine has been professionally rebuilt and recently serviced by a Z specialist. Its very rare to find such a original unmolested example that not only looks great but runs and drives as well and is highly collectible.

Current service work and additions by Classic Showcase included:

• Installed original style Hitachi "round top" carbs after rebuilding.
• Restored the air cleaner assembly.
• Adjusted the valves and performed a tune up.
• Installed a new electric antenna.
• Installed a Pioneer AM-FM stereo with CD, AUX, USB inputs with remote.
• Installed a 3 row radiator with electric fan.
• Improved the paint; wet sanded and buffed to the great finish you see today.
• Sorted out the electrical system.
• Serviced the A/C system, and installed a new compressor.
• Installed a new arm rest.
• Installed new rubber as needed as well as weather stripping seals.
• Installed new center caps on the wheels.
• Re-chromed the front and rear bumper assemblies.
• Serviced the brakes and installed new brake lines.
• Installed new suspension bushings.
• Installed new struts.

Also included with the Z is its original owner's manual, warranty and service booklet, and several receipts.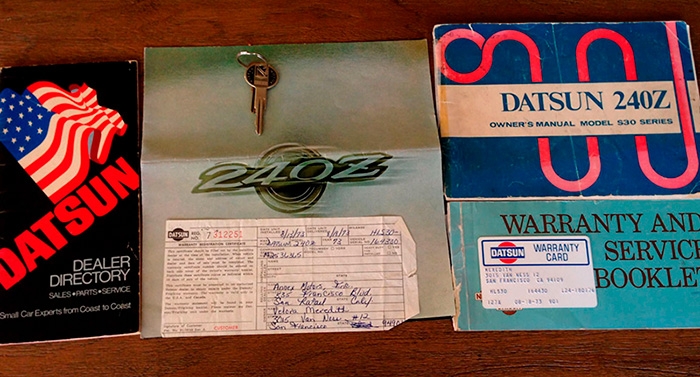 History
The Datsun 240Z was introduced in 1969 as a 1970 model. The engine was a derivation of the Datsun 1600. The Datsun 1600 was a copy of the 1960's six-cylinder Mercedes-Benz 220 engine, but with two less cylinders. By adding two extra cylinders in the 240Z the cylinder count was back to six. With 151 horsepower and 146 pound-feet of torque the vehicle could propel from zero-to-sixty in eight seconds. The independent suspension and the rack-and-pinion steering added to its quick response, performance, and handling. The front disc brakes brought the car to a stop from high speeds in just seconds. Due to the performance and low price of this vehicle during it's time, there was a seven month waiting list to acquire one of these incredible cars.