1939 Jaguar SS100 2.5 OTS
Specifications

Stock:
J39-053
Current condition:
SHOW
Performance:
2.5 Liter
Transmission:
4 Speed Manual
Suspension:
Semi-Elliptic Leaf Spring, Live Axle Rear Suspension by Semi-Elliptic Leaf Spring
Color exterior:
Gunmetal Grey
Color interior:
Silver
Wheels:
Wire Wheels
Brakes:
4-Wheel Drum Brakes
Vin #:
49053
Engine #:
L 994 E
Other 1:
Body Number: 4974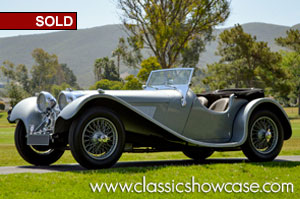 Description
(SOLD) With limited production under 200 of the 2.5 liter models made, this example -- Chassis # 49053, was built in August 1938 and supplied by the main agents Appleyard of Leeds in March 1939 according to the Jaguar Heritage Trust certificate. Always judiciously driven and maintained, this SS100 was purchased by a La Jolla, California collector that added it to his impressive Jaguar collection. He entrusted highly respected San Diego, CA restorer Jack Rabell to completely restore the car starting from the frame up and to show condition, which was an 18-month project, documented with photographs. It competed at the prestigious Pebble Beach Concours and took 2nd place amidst a very competitive field and has won numerous other awards as well.

More recently, Classic Showcase purchased the vehicle with the intentions of performing a cosmetic restoration which will include stripping the paint to bare metal, fitting and trimming a new interior and hood, as well as the boot. The SS100 will be painted in its original color combination as noted on its Jaguar Heritage Trust certificate. As one of only 65 that were built between 1938-40 (from which around only 50 are known to have survived) this SS100 is a formidable contender and more than eligible for many future great events. *Please note that the thumbnail posted above the description as well as the photo gallery are from a past SS100 example that we restored in the same color and sold several years ago.
History
Launched in 1936 alongside the 2½-Liter saloon, the SS100 Jaguar sports car marked the company's first use of the 'Jaguar' name. Beautifully styled in the manner of its SS90 predecessor, the newcomer employed a shorter, 102"-wheelbase chassis and a revised version of the 2,663 cc Standard Six which, equipped with Weslake's overhead-valve cylinder head and breathing through twin SU carburetors, now produced 104 bhp. In 1938 a 3½-liter version producing 125 bhp was added to the range, the larger engine's extra power making the SS100 a genuine 100 mph car. Although a fine touring car, the SS100 was marketed primarily as competition work. Its first major success came early, if somewhat unexpectedly, when Tommy Wisdom, crewed by his wife, won the arduous International Alpine Trial in 1936, beating Bugatti and bringing the fledgling marque to the attention of the Continental public. This would be the first of many successful rallying forays, including class wins in the RAC events of 1937 and 1938, and the Alpine (outright) again in 1948. Around 198 2½-Liters and 116 of the later 3½-Liter cars had been made by the time SS100 production was prematurely ended by the outbreak of war.
Authenticity