1965 Jaguar-XKE Series 1 4.2 OTS
Specifications

Stock:
J65-502
Current condition:
DRIVER
Performance:
265 HP, 4.2, 3 SU Carburetors
Transmission:
4 Speed Manual
Suspension:
Independent Front and Rear
Color exterior:
Opalescent Silver Blue (with Navy Blue top)
Color interior:
Navy Blue
Features:
AM/FM digital Bluetooth stereo with iPhone jack
Wheels:
Chrome Wire Wheels
Brakes:
Wilwood
Vin #:
1E10502
Engine #:
7E2234-9
Gearbox #:
EJ1358
Other 1:
Body Number: 4E1605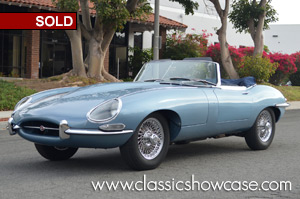 Description
This restored numbers-matching 1965 Jaguar E-Type Roadster is a great High-End Driver level car, with a very elegant look that is ready to drive and enjoy for the upcoming 2019 season! Built on January 18, 1965 it was dispatched February 1st, 1965 and sold to Ellis McClenny from Jaguar Cars in New York. It is the 502nd 4.2L LHD OTS built. The restoration was done on a sound core car hailing from the nice and dry state of Texas, whose prior owner had the car for 28 years. This is a spectacular color combination on a comprehensively restored XKE.

A Heritage Certificate accompanies the car verifying the originality, and that the numbers match. It had been restored by Jaguar professionals and had been well sorted and maintained since the restoration, driven sparingly, and kept in a collection. Currently outfitted in beautiful and classic period-correct colors of Opalescent Silver Blue with a Navy Blue interior and top, it was original Primrose Yellow and Black. In the restoration the brakes were upgraded to Wilwood all-around, and the engine runs ceramic headers. It also features an alloy radiator with auxiliary fan, headers with stainless exhaust, electronic ignition, performance harmonic balancer, gear reduction starter, a 15-inch steering wheel, an AM/FM digital Bluetooth stereo with iPhone jack, Halogen headlights, and a spin on oil filter. With so many Series 1 exclusive features such as covered headlights, triple SU carbs, toggle switches, and comfortable seats, this XKE is a fantastic choice for not only the classic Jaguar enthusiast, but for the new collector in search of a wonderful Series 1 example that is ready to drive and enjoy as it is today.
History
The Series 1 4.2 is a very user friendly, sporty driver, and one of the most collectable of the E-Types. These are wonderful cars with a 4.2-liter engine with three SU carburetors and a fully synchronized transmission. Some of the features of this model are covered headlights, toggle switches, full instrumentation with styling and a design that was way ahead of its time with center console, and arm rests. Other features of this Series 1 are its steep windshield and tail lights, which are placed above the bumper line in the rear deck. Similarly, the parking lights are above the front bumper line in the front fenders. In 1964 when the 4.2 was tested, fuel consumption was rated road reported at 22 MPG and a top speed of 140 MPH.
Authenticity