1961 Jaguar-XKE Series 1 3.8 OTS
Specifications

Stock:
J61-781
Current condition:
SHOW
Performance:
3.8 Liter, 6 cylinder, 3 SU carbs
Transmission:
4 speed manual
Suspension:
Independent front and rear
Color exterior:
Cream
Color interior:
Dark Blue with Blue Top
Wheels:
Chrome Wire Wheels
Vin #:
875781
Engine #:
R2132-9
Gearbox #:
EB 1248 JS
Other 1:
Body Number: R 1994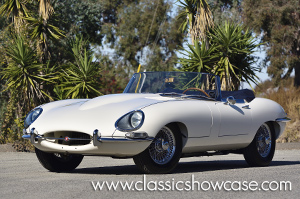 Description
This early E-Type, numbered 781 in the first-year production run exhibits many of the early sought-after features like flat floors and welded louvers. Our team has just completed the restoration process to this Roadster and performed a rotisserie-restoration to bring it back to factory standards, elevating the car to Show level. The XKE has been been repainted in it's original Cream exterior with a Dark Blue interior and complimenting Blue top.

Included in the restoration process, the vehicle has been completely dissembled, and the interior has been removed and documented, the body has been stripped to bare metal and placed on a rotisserie, and the body has been worked, metal finished, fitted, and leaded as needed, and all body parts and chrome was fitted to the E-type in bare metal. The car has been primered, sealed, and had base coat and clear coat applied, followed by color sanding and buffing to the beautiful finish you see today. All body parts were painted off the car separately.

All systems have been gone through and be restored, or replaced, as necessary. The transmission, clutch, and hydraulic systems have been restored, replaced, and the car has received all new rubber, grommets and seals. In addition, the britework has been fitted, and re-plated to Show level quality. The car has received all new upholstery, which was fitted and installed in the correct materials by master upholsterers in our Upholstery Department. The Roadster's parts and components have been restored in the proper colors and finishes as well, and NOS parts have been used wherever possible. Extreme attention to detail was given because of the importance of this early, highly original E-type. An MP4 video file of the restoration process, along with a Heritage Certificate of Authenticity will accompany the vehicle.

New! View a showroom walk-around video of the XKE in HD on YouTube: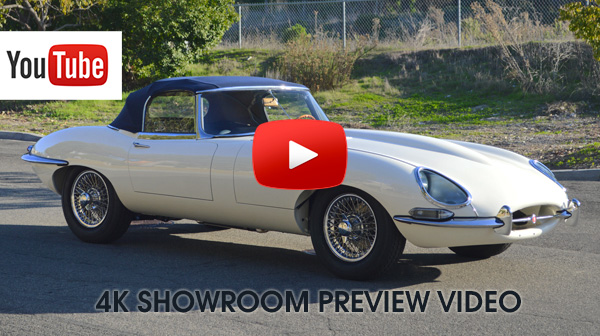 History
The Series 1 Jaguar XKE was introduced, initially for export only, in March 1961. The domestic market launch came four months later in July 1961. The cars at this time used the triple SU carbureted 3.8 liter 6-cylinder Jaguar XK6 engine from the XK150S. The first 300 cars built had flat floors and external hood (bonnet) latches. These cars are rare and more valuable. The outside bonnet latch is the most sought after of all the Series I E types. Only 500 external bonnet latch cars were made, of those, 385 were left-hand drive roadsters, 20 left hand drive coupes, 91 right hand drive roadsters, and 4 right-hand drive coupes. After that, the floors were dished to provide more leg room and the twin hood latches moved to inside the car.
Authenticity