1954 Jaguar XK-120 SE 3.4 OTS
Specifications

Stock:
J54-424
Current condition:
SHOW
Performance:
Rebuilt 3.4L, 180 HP, inline 6-cylinder SE engine with SU Carbs
Transmission:
Rebuilt 4-speed gearbox
Suspension:
Independent front suspension with transverse wishbones, elongated torsion bars, and an anti-roll bar, rigid rear axle with semi-elliptic leaf springs
Color exterior:
Pastel Blue
Color interior:
Red Connolly leather, Dark Blue convertible top w/matching Tonneau cover
Mileage:
30,160 miles showing
Wheels:
Painted Dayton wire wheels with spinners, with an original restored Dunlop wire wheel, painted to match, as the spare
Tires:
Firestone 185 SR 16
Brakes:
four-wheel hydraulic drum brakes.
Vin #:
S674424
Engine #:
F1203-8S
Gearbox #:
JL19949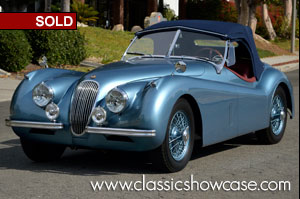 Description
(SOLD) Born on the 9th of December 1953, this special XK-120 SE has been ground-up restored, to correct standards, with a great deal of time invested into the body and paint work alone. The core car was an extremely original car with all the proper dates on the Lucas electronics to support the build date. Finished in a lustrous Pastel Blue, the Red Connolly leather interior and Wilton carpets are complemented by Smiths instruments to complete this sporty look. The same attention has been paid to rebuilding the engine, gearbox, differential and suspension components. Optional Lucas fog lamps and fender mirrors augment the exterior, while the painted Dayton wires are wrapped in Blackwall tires, and a stainless dual exhaust was also installed. For this build, the goal was to be as correct as possible. Work started with an acid bath to strip the paint and rust, and whenever possible the original nuts and bolts were stripped and re-blackened (per original plating style of the 50's). It is correct and proper from the authentic Smith heater (with a new core), the Trico washer bottle and bracket, Bakelite battery covers, cloth-covered wire loom, BAS interior kit with Wilton wool carpets and Connelly leather, and a custom blue hood to match the Tonneau cover. It has upgraded torsion bars, leather gaiters, and brass lined brake cylinders. Accompanied by a restoration photo book, restoration invoices, tool roll, sales brochures, Jaguar Operating & Service Handbook, along with a Jaguar Daimler Heritage Trust Certificate. This XK-120 Roadster is ready to be admired, shown, and enjoyed by a discerning collector who seeks a fine example.
History
In 1951 the 'SE' spec was introduced. Jaguar took what they had learned from their success with the XK120 and 'C'-Type in racing and rallying and applied it to road going XKs. Power was increased from 160 bhp to 190 bhp and wire wheels added to provide better cooling for the drum brakes. The optional 'C'-Type head upped the power output even further to an estimated 210 bhp.

During the Second World War, William Lyons and his staff designed what would be the world's first high-volume twin cam engine. After the war, a short wheelbase chassis and a two-seat sports body were married to this new engine and when the XK 120 was introduced at the 1948 Earl's Court Motor Show. The XK 120's body was a fresh, minimalist design with gracefully flowing curves running front to back, while the modern chassis design provided excellent handling. The XK inline six-cylinder engine, originally producing 160 horsepower, was mated with a four-speed manual transmission, and provided phenomenal performance. The XK 120 earned its name from when Jaguar was racing their cars. The car reached 120 mph!
Authenticity