1966 Jaguar-XKE Series 1 4.2 OTS
Specifications

Stock:
J66-843
Current condition:
DRIVER
Performance:
4,235cc DOHC Inline 6-Cylinder, 3 SU carbs
Transmission:
4-speed manual
Suspension:
Independent Front / Rear
Color exterior:
Opalescent Silver Gray
Color interior:
Black
Features:
Retroradio AM/FM Push-button Digital Stereo
Mileage:
30,148 showing
Wheels:
Chrome Wire Wheels
Tires:
Vredenstein 185x70x15
Brakes:
Front & Read Disc
Vin #:
1E10843
Engine #:
7E12022-9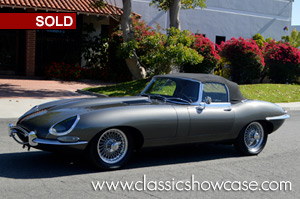 Description
(SOLD) This numbers-matching, one-owner High-Level Driver XKE features a striking Opalescent Gunmetal over Black color combination, and remains in its original but unmolested condition. This is from the family of the most desirable of the Series 1 examples. It features triple SU carburetors covered headlights, a four speed transmission, wire wheels, toggle switches on the dash, comfortable bucket seats, and center console with armrest. The roadster has always been well maintained, and has received a full service and detail by Classic Showcase. The E-Type comes with a Jaguar Heritage certificate, receipts and records documenting it's service history. This is a great dependable example that is ready to be enjoyed as-is or may be easily taken to a higher level if so desired. Series 1 examples of this caliber and originality are getting increasingly hard to find as their popularity has increased in recent years. Regardless of your use, this E-Type stands as an excellent investment.

New! View a short test-drive and showroom walk-around video in 1080p on YouTube: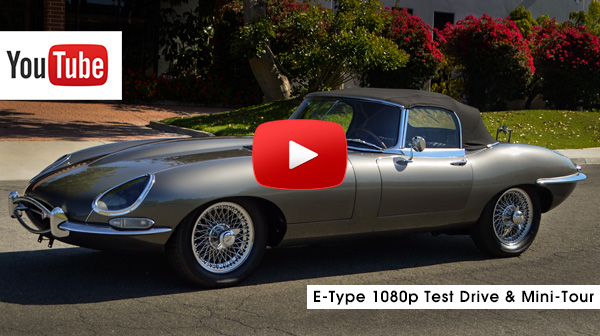 History
The Jaguar E-Type, unofficially known as the "XKE", was considered "the most beautiful car ever made" by Enzo Ferrari, who wept when he first saw the car. Revealed for the first time at the Geneva Auto Show in March 1961, the world was shocked by its stunning looks, exhilarating performance and affordability. After more than 50 years, the E-Type continues to stand out as one of the most beautiful and recognizable automobiles in the world and is considered the epitome of Jaguar's exquisite feel for body design. Designed by Malcolm Sayer, a former aircraft engineer, the car is literally a work of art having been placed as the only automobile in the permanent exhibit of The Museum of Modern Art in New York City. Sayer used scientific calculations to create the beautiful elliptical E-Type form. Of enduring quality, the E-Type was and is one of the most appealing, intelligent, elegant and intoxicating sports cars ever made like nothing before it, or would ever come after it. More than a half-century later, the E-type remains the gold standard for automotive design. The September 2015 edition of Road and Track had this to say about the E-Type Coupe. "Five-plus decades on, it remains the aspirational British supercar. E-types appear in every top collection, including the Museum of Modern Art's, and their values still defy the laws of supply and demand. Some of the features of this model are covered headlights, toggle switches, full instrumentation with styling and a design that was way ahead of its time with center console, and arm rests. Other features of this Series 1 are its steep windshield and tail lights, which are placed above the bumper line in the rear deck. Similarly, the parking lights are above the front bumper line in the front fenders. In 1964 when the 4.2 was tested, fuel consumption was rated road reported at 22 MPG, and a top speed of 140 MPH.
Authenticity