1971 Jaguar-XKE Series II 4.2 FHC
Specifications

Stock:
J71-373
Current condition:
DRIVER
Performance:
4.2-liter, 180 hp, Zenith-Stromberg 175 CD2SE SOHC
Transmission:
4-speed manual
Color exterior:
Maroon
Color interior:
Black
Features:
Factory A/C, power steering, AM/FM Cassette Stereo
Mileage:
67,268
Wheels:
Chrome wire wheels
Tires:
Vredestein 185/15
Brakes:
Four-wheel servo assist disc brakes
Vin #:
P2R28373
Engine #:
7R13510-9
Gearbox #:
KE15907
Other 1:
Body Number: 4R24363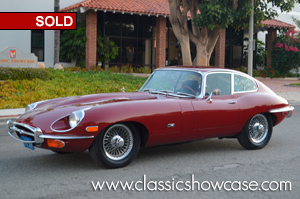 Description
(SOLD) This limited owner 1971 Jaguar Series II XKE Coupe is the last production run equipped with the 4.2-liter six-cylinder twin overhead cam engine producing 180 hp. The car is also equipped with a 4-speed synchromesh transmission, 2-side draft Stromberg carburetors, 4-wheel independent suspension with double A arms, torsion bars in the front, 4-wheel servo assist disc brakes, and power steering. A Series II XKE is very desirable because of its comfortable reclining seats as well as head rests, that were adjustable for height; the improved cooling system, and dual fans on the radiator. Leaping cat emblems were only placed on the side of the 1971 XKE bonnet and are a unique addition and symbol of this series. While the Series II E-type was more radically altered than its interim predecessor, the essential construction remained the same and the body work differed only in detail. Modifications were made to the front of the bonnet, increasing the size considerably, the headlamp scoops were altered so that the inner walls now splayed inwards, and the side/flasher were rather larger and positioned below the raised bumper. The vehicle also received heavier front bumper blades, motif bar, front and rear over-riders were changed, new square number plate at the rear, a different grille was used in the rear of the bonnet bulge, and the washer jets were finished in satin chrome to avoid the risk of dangerous reflections.

A recent service performed by Classic Showcase included:

• Pressure washed rear end
• Overhauled power steering pump and installed power steering hose, and pressure hose
• Flushed brakes and bled
• Installed new stainless-steel exhaust, exhaust mounts, and exhaust manifold seals
• Installed new heater pipes in dash, and heater pipe kit
• Installed missing washer jets
• Serviced the cooling system, R & R hoses/clamps; installed hose kit, water pump belt, and hose clamps
• Installed new 12-volt battery
• Installed missing rubber buffers on gas lid
• Installed new clutch and brake pedal rubber
• Installed four new black wall Vredestein 185/15 tires (4)

It features factory air conditioning, but it will need to be serviced to blow cold. This is your golden opportunity to buy one of the last 6 cylinders made in 1971 before the 12-cylinder replaced it.
History
The short wheelbase FHC body style was discontinued and the V12 was available only as a convertible and 2+2 coupé. The convertible used the longer-wheelbase 2+2 floorplan. The Series 3 is easily identifiable by the large cross-slatted front grille and flared wheel arches, and a badge on the rear that proclaims it to be a V12. Cars for the US market were fitted with large projecting rubber bumper over-riders (in 1973 these were on front, in 1974 both front and rear to meet local 5 mph (8 km/h) impact regulations, but those on European models were considerably smaller. US models also have side indicator repeats on the front wings. There were also a very limited number of six-cylinder Series 3 E-Types built. These were featured in the initial sales literature. When leaving the factory, the V12 Open Two-Seater and V12 2 ± 2 originally fitted Dunlop E70VR − 15-inch tires on 15 × 6K wire or solid wheels.