1976 Jaguar XJ6C 4.2 Coupe
Specifications

Stock:
J76-964
Current condition:
SHOW-DRIVER
Performance:
4.2 L, 6 cylinders, 162 hp, 4235 cm3 / 257.5 cui, Zenith-Stromberg 175 CD2SET DOHC
Transmission:
Borg Warner BW 65 automatic 3 speed, RWD (rear-wheel drive)
Suspension:
Four-wheel independent. Front: Upper and lower A-arms, coil springs, tube shocks and anti-roll bar; Rear: lower wishbones, trailing lower radius arms, two coil springs/tube shocks per side, anti-roll bar
Color exterior:
Dark Blue
Color interior:
Biscuit
Features:
Alpine AM/FM stereo, dual mirrors, sunroof, dual exhaust, A/C
Mileage:
80,698 miles
Wheels:
Chrome Steel Wheels with hubcaps
Tires:
White wall 205/70R15
Brakes:
Four-wheel disc, power assist; 11.18-inch ventilated front, 10.38-inch inboard-mounted rear
Vin #:
UG2J51964BW
Engine #:
8L26577L
Gearbox #:
02513757
Other 1:
Body Number: 5J 3751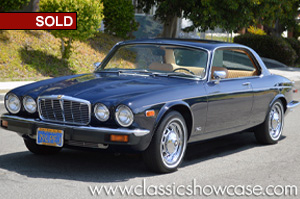 Description
(SOLD) This stunning example was imported through Bauer Motors of Costa Mesa, California and has spent its entire life in the state of California. It sports its' original blue and yellow California license plates, which makes the car that much more special as this demonstrates that it has lived in a mild climate its entire life.

The car was originally titled to Peter Satori Leasing which was a large British car dealership in Pasadena, California. What makes it particularly special is the electric sunroof, which we believe was installed when the car was first imported into the United States as XJ6C's did not come from the factory with an electric sunroof. The vinyl roof that was on the car was probably removed when the electric sunroof was installed, and it works great! We have only seen photos two other XJ6C 's with electric sunroofs installed.

With limited ownership, this handsome XJ6C is garbed in Dark Blue with a Biscuit leather interior. Recently, a Jaguar specialty shop performed a bare metal re-spray, with all the glass taken out. After the paint was done, the car was taken to have its upholstery redone with brand new leather (not a kit), and they stamped the leather with the original diamond pattern as the car came stock with, and they duplicated the original pleating width. Both the front and the rear seats were recovered in Connolly leather, and they replaced the headliner. The dash wood was replaced with a new one from Madera Concepts. All the other panels, carpet, and interior items are original and in good shape.

This Jag still has its original 4.2 liter straight six engine with three speed automatic transmission. It has a new power steering rack and battery, and it runs, drives, and handles beautifully on the road. The air-conditioning system blows cold and has a rebuilt A/C compressor. Everything works on the car as it should.

Coming with a plethora of documentation from the last ownership, and from the one before, there are also some service records dating back to 1981. The Jag made its way up the California coast from Southern California and was owned by a woman in San Francisco for many years. A Bentley and Rolls Royce collector had been trying to purchase the car from her for many years when he lived in San Francisco and saw the car frequently. She finally sold it to him, and he owned the car for 5 or more years before the last owner purchased it from him back in 2013.

The car has won numerous awards, such as winning first in its class at the Danville Concours D'Elegance four years ago, won its class two times at the United British Sports Car Club all British show in Dixon California, won in its class two times at the British Fall Classic in Morgan Hill, and it also won in its class a few years ago at the Blackhawk Museum All British show.

The XJ6C was always garaged, and we believe that it has been garaged its whole life based on the condition the car is in currently, and that it had zero rust on it when it was repainted.

Coming with a Heritage Certificate, the original dealer window sticker from Bauer Motors, the "Passport to Service" showing the original owner as Peter Satori Leasing, and its original Owner's Manual. There are also many service records and scoresheets that come with the car upon purchase.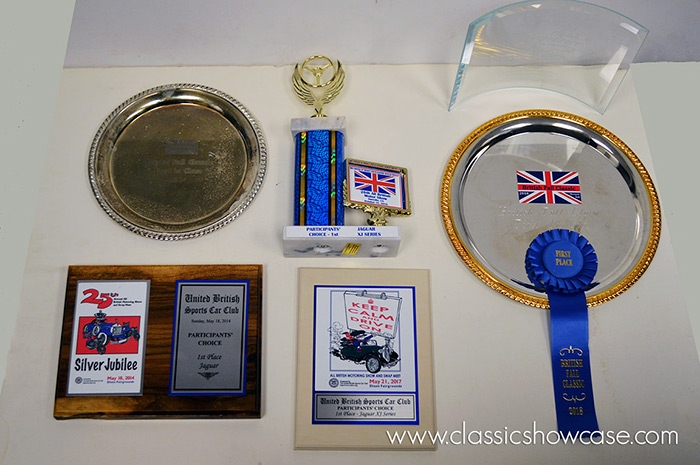 The Sports Touring Coupe is full of power, and while very sporty has more than enough room to accommodate up to 5 adults. It retains its original glass and chrome throughout and features a large trunk that is perfect for storage, and a streamlined body to accommodate it's rare and unique 2-door design. Finished in a beautiful color combination of Dark Blue over Biscuit, the car comes with an Alpine AM/FM stereo, dual mirrors, sunroof, dual exhaust, full instrumentation, and a number of luxury/comfort options including power steering, power windows, power brakes, and factory air-conditioning. The XJ series models have seen a resurgence in popularity as of late, so don't miss your chance to acquire a definitive example of a classic Jaguar design! It is hard to find these cars in original condition that have not been modified. Coming with a recent service, and current smog, it is a great car to drive, and improve aesthetically as you wish, or take to the next level.
History
Sir John William hailed the XJ series as 'The finest Jaguar ever.' The 'XJ' designation had been used during the vehicle's development as its codename. When the vehicle was introduced, the codename persisted. When introduced it was powered by a six-cylinder engine that came in either 2.8- or 4.2-liter displacement. In 1972 a 5.3-liter V12 unit was introduced It brought mild aesthetic improvements over the prior years. One of the more visual indications of a Series II from a Series I was the smaller front grille. A 3.4-liter engine became available in 1975. A 9,378-car run of two-door XJ coupés with a pillarless hardtop body called the XJ-C was built between 1975 and 1978. The car was launched at the London Motor Show in October 1973. The coupé was based on the short-wheelbase version of the XJ. The coupé's elongated doors were made out of a lengthened standard XJ front door. Both six and twelve-cylinder models were offered, 6,505 of the former and 1,873 of the latter. All coupes came with a vinyl roof as standard. The taut surfaces and tightly drawn curves of the short-wheelbase Series 2 four-door translated perfectly with two fewer portals, and the glassy greenhouse of the coupe, backed by thicker C-pillars and the falling curve of the trunk lid, emphasized this car's driven rear wheels in a way that was both sporting and elegant.