1973 Lotus Europa Twin Cam
Specifications

Stock:
LO73-366
Current condition:
ORIGINAL-PRESERVED
Performance:
Twin cam spark-ignition 4-stroke, Zenith-Stromberg 175 CDSE DOHC, 105 bhp 1557 cc Lotus-Ford Big Valve Twin Cam
Transmission:
5-Speed Transaxle
Suspension:
Coil over, stock
Color exterior:
Metallic Tawny Brown
Color interior:
Black
Features:
Radio delete
Mileage:
39,946
Wheels:
Factory Alloy
Tires:
Michelin 175/70/13
Brakes:
Front- Disc / Rear - Drum
Vin #:
3366R
Engine #:
S29692
Gearbox #:
1799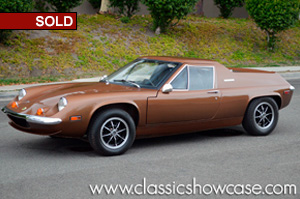 Description
(SOLD) This numbers matching 1973 Lotus Europa Special Twin Cam has been used sparingly in the last few years and was repainted the original color several years ago and shows well. It is very hard to find original car such as this, unmolested, and preserved coming with its all original Triplex glass. With low original miles, a very nice complete interior, this little Europa is a blast to drive and rides on its factory alloy wheels. It is very proper throughout, and is a nice and correct, original Europa Twin Cam.

Classic Showcase has just completed the following services to the car since in their care:

Major engine service included: A valve adjustment, new cam cover gaskets, rebuilt the carburetors, new plugs and wires; new points, rotor and condenser; and new rear bearing, along with:

• New rear transmission mounts.
• New rear brake shoes and cylinders.
• New front calipers.
• New front and rear brake flex lines.
• New front trunnions.
• New tie rod ends.
• The electrical system has been well sorted.
• Paint and upholstery touch up work.
• A full vehicle detail

Ready to be enjoyed for your spring drives, rally adventures, and showing on the show field.
History
The Lotus Europa name is used on two distinct mid-engined GT coupé cars built by Lotus Cars. The original Europa and its variants comprise the Lotus Types 46, 47, 54, 65 and 74, and were produced between 1966 and 1975. The Europa concept is believed to have originated during 1963 with drawings done by Ron Hickman, then director of Lotus Engineering, for Lotus' bid for the Ford GT40 racing car project. When that contract was lost to Lola Cars, Chapman chose to use Hickman's highly efficient aerodynamic design, which had a drag coefficient of only Cd 0.29, as the basis for a new mid-engined production model originally intended to succeed the Lotus 7. By the mid-1960s, the mid-engine vehicle configuration was well-established as the optimal design for Grand Prix cars, however almost no road vehicles yet used this arrangement. Lotus planned the Europa to be a volume-produced, two-seater mid-engined sports coupe built to reasonable cost, quite an ambitious goal for the time. Like all Lotus vehicles of the era, the Europa was designed and built following Chapman's oft-stated philosophy of automotive design: "Simplify, then add lightness". To this end, a number of ingenious design approaches were made by Lotus to allow it to economically overcome the many challenges presented by the novel mid-engined arrangement. Earliest versions of the Europa had the body fully bonded to the chassis for maximum structural stiffness, however this was soon changed to a bolted-on body to allow normal chassis and body repairs to be made. Unlike the Elan, the Europa had no front-mounted engine or gearbox to accommodate, and so the Europa's main chassis member ran straight forward to intersect a large box-section cross-beam running across the car between the front suspension points. At the rear, the chassis split into a "Y" shape behind the cabin to accommodate the combined engine, transmission and final-drive components, and to support the rear suspension. Production of the original Lotus Europa ceased in 1975, with a total of 9,230 cars of all models having been built.