1967 Jaguar 420G 4.2 Sedan
Specifications

Stock:
J67-369
Current condition:
ORIGINAL-PRESERVED
Performance:
6 cyl., 4.2 liter, 3 SU Carbs
Transmission:
Automatic
Suspension:
Coil-spring independent rear suspension
Color exterior:
Dark Blue
Color interior:
Light Blue (with wood trim)
Features:
Tools and Jack
Options:
Factory Air Conditioning, Power Steering, Power Windows, Rear Window Defroster
Wheels:
Steel Wheels and Hubcaps
Vin #:
G1D77369BW
Engine #:
7D56802-9
Other 1:
Body Number: 4D56980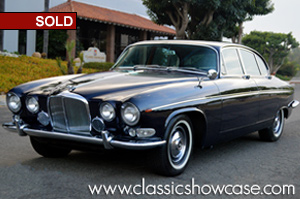 Description
The Jaguar 420G Sedan comes to us from a collection, and is a highly original California example that is in wonderful condition with a great California-native history. The current owner of this 420G is thought to have been the Sedan's 4th owner from new, based on documentation and records residing with the car. The Jaguar was originally purchased new in Santa Barbara and remained under original ownership from 1968 to 1986. The next owner resided in Carmel, CA who then sold it to a Monterey, CA resident and owned until 1991, where it was then sold to its current owner. The car drives smoothly, features a wonderful level of patina throughout, and is thought to have its original coat of factory paint. It also features power steering and windows, the original California black license plates, and a fully functional Air Conditioning system ready for those warm Summer drives. This 420G stands as a highly original and complete example that is ready for the road now or can easily be taken to a higher level of your choosing. Regardless of use, this exceptionally well-preserved Jaguar 420G should delight novice and experienced collectors alike. A set of tools, a Jack, and Jaguar Daimler Heritage Trust Certificate verifying the car's authenticity are included with the vehicle.

Receipts, Manuals, and Documentation included: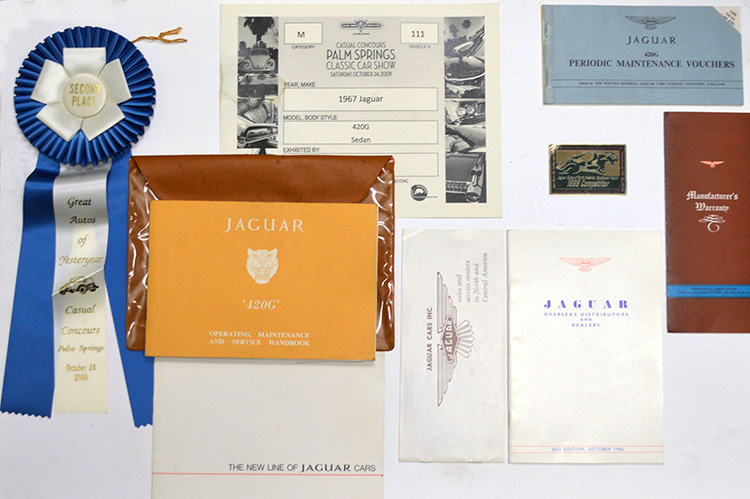 History
The Jaguar Mark X (Mark ten), later renamed the Jaguar 420G, was British manufacturer Jaguar's top-of-the-range saloon car for a decade, from 1961 to 1970. The large, luxurious Mark X succeeded the Mark IX as the company's top saloon model, and was primarily aimed at the United States market. The company hoped to appeal to heads of state, diplomats and film stars. Introduced in the same year as Jaguar's iconic E-Type, the Mark X impressed with its technical specification and innovations. Contrary to its predecessors, the car featured integrated, unitary bodywork – the largest in the UK at the time, as well as independent rear suspension, unheard for early 1960s British luxury cars. Combined with the 3.8-litre, triple carburetor engine as fitted to the E-type, it gave Jaguar's flagship a top speed of 120 mph (193 km/h) and capable handling at less than half the price of the contemporary Rolls-Royce Silver Cloud. For the London Motor Show in October 1966 the Mark X was renamed the Jaguar 420G (not to be confused with the smaller Jaguar 420). The 420G was distinct from the Mark X only with the addition of a vertical central bar splitting the grille in two, side indicator repeaters on the front wings, and a chrome strip along the wing and door panels (two tone paint schemes were also available with the chrome strip omitted). Interior changes included perforations in the central sections of the leather seats, padded dashboard sections for safety, moving the clock to a central position, and the introduction of air conditioning as an option.
Authenticity