1950 Jaguar XK-120 3.4 Alloy OTS
Specifications

Stock:
J50-121
Current condition:
ORIGINAL-PRESERVED
Performance:
3.4 litre inline six-cylinder engine, Twin SU Carbs, 160 HP at 5,200 RPM
Transmission:
4-Speed Manual
Suspension:
Independent front torsion bar and rear leaf spring
Color exterior:
Old English White
Color interior:
Two-Tone Red & Beige / Fawn Top
Mileage:
64,357
Wheels:
Steel Disc Wheels
Brakes:
Hydraulic Drum Brakes
Vin #:
670121
Engine #:
W 1193-8
Gearbox #:
JH 1458
Other 1:
Body Number: F 1163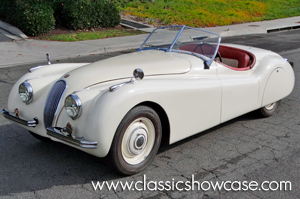 Description
Classic Showcase is pleased to offer one of the rarest classic Jaguars available in the world today, the Alloy-bodied XK-120 Roadster. Jaguar created these Alloy-bodied models with the aim of competition racing, where its lightweight aluminum body design would prove to be a great performer on the track; this unique, performance-minded design aesthetic produced a special series of 240 Alloy XK-120s, including the example on offer here. The numbers-matching car offered here (chassis number 670121), is one of the 184 left-hand drive models that Jaguar delivered, out of a total of 242 Alloy-bodied cars produced , and offers all of the notable early XK-120 features, while showing a great level of patina throughout; in addition, this Alloy has a number of truly unique special features present that are exclusive to 1949 & 1950 Alloy roadster builds, including chromed top bows, chromed prop rod, along with a pair of chromed seat bottoms and bases (which were subsequently changed to painted steel in 1951 to keep production costs down). In addition, the Alloy 120 also features a set of taller SU carburetors which were also exclusive to early XK and 120 models. A nice example of the rarest of all early patterned Aluminum bodied cars with steel disc wheels, and distinctive rear mudguard spats.

This XK-120 has a great history, as it was owned by a very well-known Jaguar collector, a doctor in Switzerland. He campaigned and enjoyed the car in rallies and shows all over Europe, and after years of ownership decided to let another collector take ownership. The car was eventually brought to the United States, where it was later purchased by Classic Showcase. Later, we sold the Alloy to a prominent Southern California collector who enjoyed the car for a number of years, including participating in the famous annual Colorado Grand rally, an incredible achievement for a car of this age and stature! He continued to enjoy the Alloy for several more years, until Classic Showcase reacquired the car and performed a thorough servicing and update; Now, this rare and collectible XK-120 Alloy example is ready for the next chapter of its special life...

This XK-120 roadster stands as a wonderful example of the archetypal and most desirable of the Alloy-bodies series of cars and presents the Jaguar collector with a rarely afforded opportunity to own a coveted piece of Jaguar motor history. The Alloy roadster comes complete with a Jaguar Daimler Heritage Certificate of Authenticity, tool roll, jack, and owner's manual.


Drive, Start-Up and Walk-around Videos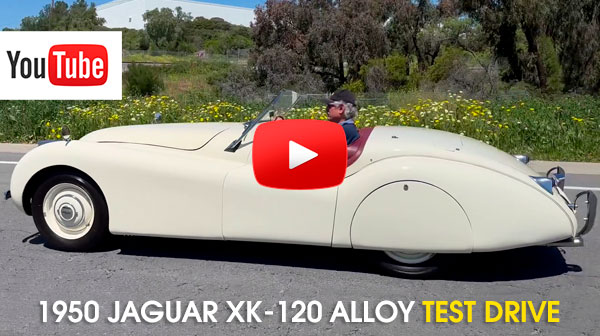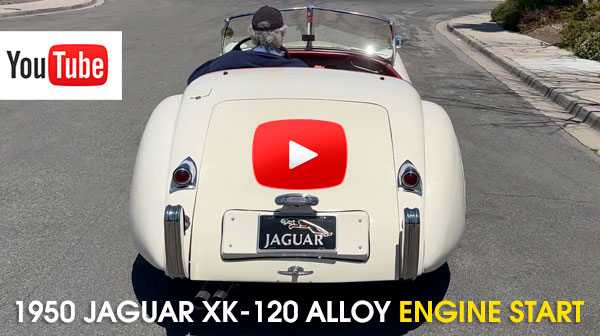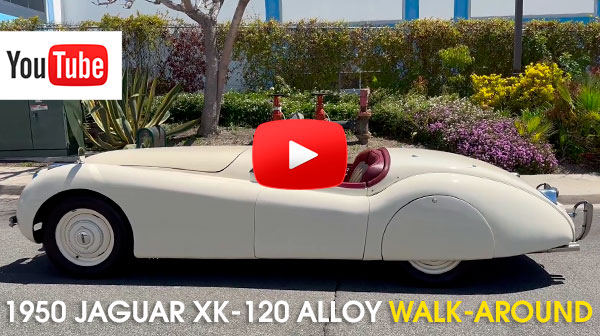 History
While most contemporary observers of the Jaguar XK120 would be certain that it was born for greatness, it is surprising to consider that it was conceived and born as a limited-edition stopgap model. William Lyons assumed that the post-WWII fortune of his company, the recently re-named Jaguar Cars Ltd., would be made on the saloon cars that would sell so well in export markets, especially in the U.S. To that end, a new dual overhead-cam, six-cylinder, 160 horsepower engine was developed to power a new luxury sports four-door. As the new car was not yet ready, it was decided to launch the engine in a limited run of alloy-bodied roadsters. When shown at the 1948 Earl's Court Motor Show, it created a sensation. Following a speed run on a Belgian highway in 1949, in which an XK120 ran 126 mph with its windshield on and 132 mph without, there was no doubt that this would become a regular production model. After 240 alloy cars were built, production was shifted to more easily manageable steel, which was now more widely available following post-war material shortages.
Authenticity