1956 Jaguar XK-140 MC 3.4 FHC
Specifications

Stock:
J56-713
Current condition:
UNDER RESTORATION
Performance:
3,442cc DOHC inline 6-cylinder engine
Transmission:
4-speed manual
Suspension:
Independent front suspension and rigid rear axle with semi-elliptic leaf springs
Color exterior:
open to purchaser - please contact us for more info
Color interior:
open to purchaser - please contact us for more info
Mileage:
36,000 showing / 100 test miles after restoration
Wheels:
Chrome Wire Wheels
Brakes:
4-wheel hydraulic drum
Vin #:
A815713
Engine #:
G 8255-8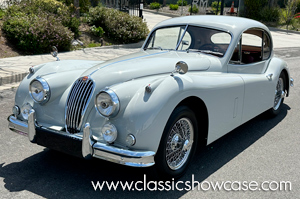 Description
This Jaguar XK-140 MC FHC is currently under restoration to a Show-Driver level...Our team has rebuilt the 140's engine, and has completed the first phases of bodywork; if you are interested in purchasing this Coupe we could paint this Jaguar any color combination of your choice, please contact us at your earliest convenience!

This highly original numbers-matching XK-140 MC FHC was built in June of 1956, and delivered new to Louis R. Emme at the US Embassy in Oslo, Norway. Known by the current owner for more than a decade, the XK-140 MC has been kept in storage for many years, and is in very appealing and honest condition maintaining a high degree of originality throughout. The coupe is straight and free of any major corrosion issues.

Included in the restoration process of the Coupe, it has already been stripped to bare metal, placed on a rotisserie, metal finished, leaded, all body parts fitted to the car and chrome, prepared for primer, sealer, paint, base, clear, color sanded and buffed to a fabulous finish in the purchaser's desired color combination. All systems will be gone through and restored: the fuel, electrical, cooling, and hydraulic system. All components will be rebuilt back to factory specifications, including the engine, transmission, rear end and suspension. The chrome will be re-plated as needed. The car will receive a complete new custom tailored and fit interior in the correct materials by our upholsterers. An mp4 video of the restoration process will accompany the vehicle. Upon completion of the restoration this Jaguar will be a great example to drive, show, and enjoy!
History
In 1951 the 'SE' spec was introduced. In American markets it was called "MC" to note the car used the high-performance cylinder heads from the Jaguar C-Type Le Mans race car, along with largely SU carburetors, and dual exhaust pipes offering a power boost to 210 bhp at 5,750 rpm. Newly introduced for 1955, the Jaguar XK140 was broadly similar to, though more refined than, its sensational XK120 predecessor, major engineering changes being confined to the repositioning of the engine 3" further forward and the adoption of rack-and-pinion steering. Outwardly the newcomer was distinguishable by its revised radiator grille, rear lights incorporating flashing indicators and larger bumpers, the latter adopted to withstand the cut and thrust of urban parking. Special Equipment (SE) cars came with wire wheels and Lucas fog lamps, and could be ordered with the C-type cylinder head for 20 more horsepower. XK140 performance was well up to the standards set by its exemplary predecessor, contemporary road-tests regularly recording top speed figures in excess of 120mph.