1958 Jaguar-Projects Mark I 3.4 Saloon
Specifications

Stock:
J58-409
Current condition:
ORIGINAL-PRESERVED
Performance:
Twin cam 3.4L inline 6-cylinder engine, with 2 SU carbs
Transmission:
Borg Warner automatic transmission
Color exterior:
open to purchaser
Color interior:
open to purchaser
Vin #:
S985409BW
Engine #:
KE15709 8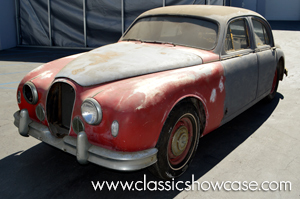 Description
This matching-numbers and mostly complete 1958 Mark 1 is a great candidate for a comprehensive restoration. It is a California blue-plate car that has been off the road since 1995, and always kept in the previous owner's Southern California garage. The car is mostly complete, exhibits some repairable minor rust, and will need a full restoration to get back on the road.

Included in the restoration process of the Mark 1: it will be stripped to bare metal, placed on a rotisserie, metal finished, leaded, all body parts fitted to the car and chrome, prepared for primer, sealer, paint, base, clear, color sanded and buffed to a fabulous finish in the purchaser's desired color combination. All systems will be gone through and restored: the fuel, electrical, cooling, and hydraulic system. All components will be rebuilt back to factory specifications, including the engine, transmission, rear end and suspension. The chrome will be re-plated as needed. The car will receive a complete new custom tailored and fit interior in the correct materials by our upholsterers. An mp4 video of the restoration process will accompany the vehicle. Upon completion of the restoration this Jaguar will be a great example to drive, show, and enjoy!
History
The Jaguar 3.4 Litre Mark 1 is a British saloon car produced by Jaguar between 1955 and 1959. Referred to in contemporary company documentation as the Jaguar 2.4 Litre and Jaguar 3.4 Litre. Its designation Mark 1 followed its October 1959 replacement by Jaguar's 2.4-litre Mark 2. The 2.4 Litre was the company's first small saloon since the end of its 1½ and 2½ Litre cars in 1949, and was an immediate success, easily outselling the larger much more expensive Jaguar saloons. The 2.4 Litre saloon was announced on 28 September 1955. The 3.4 Litre saloon announced 17 months later in USA on 26 February 1957 was designed for the American market and was not at first freely available on the domestic market. The Mark 1 was initially offered with a 2.4 Litre short-stroke version of the XK120's twin-cam six-cylinder engine, first rated at 112bhp nett by the factory at the launch in 1955. From February 1957 the larger and heavier 3.4 Litre 210bhp (gross) unit already used in the Jaguar Mark VIII also became available, largely in response to pressure from US Jaguar dealers. Wire wheels became available. The 3.4 had a larger front grille for better cooling, a stronger rear axle, and rear-wheel covers (spats) were cut away to accommodate the wire wheels' knock-off hubcaps. The 2.4 Litre was also given the larger grille. After 200 cars had been built and sent to USA and just prior to the car's announcement a major factory fire destroyed 3.4 Litre production facilities. In September 1957 a three-speed Borg-Warner automatic transmission previously an export-only option became available with either engine and Dunlop disc brakes for all four wheels were made available as an optional extra on all Jaguar models except the Mark VIII saloon. 19,992 of the 2.4 and 17,405 of the 3.4 Litre versions were made.