1956 Jaguar D-Type
Specifications

Stock:
J56-866
Current condition:
SHOW-DRIVER
Performance:
4.2 Jaguar E-Type 6-cyl, Triple Weber carburetors
Transmission:
Getrag 5 speed
Color exterior:
Blue
Color interior:
Blue
Features:
RAM coil over shocks, Racing Style Seatbelts
Mileage:
329 (since build)
Wheels:
Dunlop Style Racing Wheels with Knock Offs
Tires:
205/60/16 Continental
Brakes:
XJ6 Front & Rear Brakes
Vin #:
P56260866JA
Engine #:
8L108413-S
Other 1:
Body Number: XD-656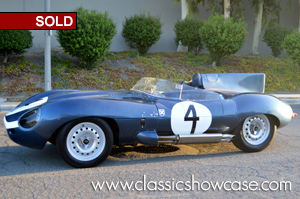 Description
(SOLD) This Jaguar D-Type re-creation features a quality build by British restorers. This fiberglass-bodied roadster features a number of performance enhancements, including triple Weber carburetors, a 5-speed manual transmission, rack & pinion steering, high-torque starter, electronic distributor, independent rear suspension, and an alloy radiator with auxiliary electric fan and battery cutoff. Additionally, this D-Type has a Jaguar 4.2 engine and running gear with only a few test miles since its build. On the inside, the D-Type features a full-leather interior, full instrumentation, and a Mota Lita steering wheel. The exterior features period badges, headers, turn signals, side exhaust, accented white stripes, racing insignia, and sits on top of a set of Dunlop-style racing wheels with knock-offs. Now is the time to own a Jaguar D-Type at a fraction of the cost of an original. This is a great sports car that is ready for competition, rally, the track, or just driving on your favorite windy roads.

View a brief 4K YouTube walk-around Tour of the D-Type, narrated by Tom Krefetz: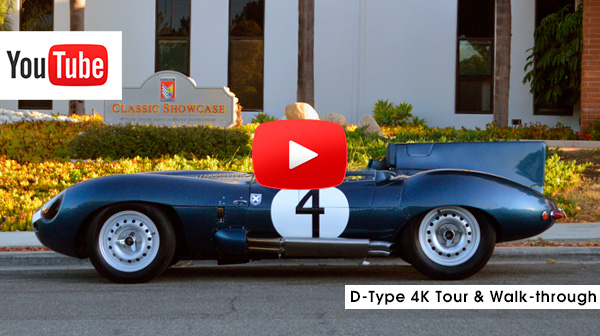 History
Designed specifically to win the Le Mans 24-hour race, the slippery D-Type was produced by Jaguar Cars Ltd. between 1954 and 1957. Sharing the straight-6 XK engine and many mechanical components with its C-Type predecessor its structure however was radically different. Innovative monocoque construction and aerodynamic efficiency integrated aviation technology in a sports racing car, some examples including a renowned vertical stabilizer. Engine displacement began at 3.4 litres, was enlarged to 3.8 L in 1957, and reduced to 3.0 L in 1958 when Le Mans rules limited engines for sports racing cars to that maximum. D-Types won Le Mans in 1955, 1956 and 1957. After Jaguar temporarily retired from racing as a factory team, the company offered the remaining unfinished D-Types as XKSS versions whose extra road-going equipment made them eligible for production sports car races in America. In 1957 25 of these cars were in various stages of completion when a factory fire destroyed nine of them. Total production is thought to have included 18 factory team D-Types, 53 customer cars and 16 XKSS versions.