1964 Jaguar-XKE Series 1 3.8 FHC
Specifications

Stock:
J64-555
Current condition:
SHOW-DRIVER
Performance:
3.8 Inline 6 Cylinder, Weber Carbs, 10:1 pistons
Transmission:
5 speed
Suspension:
Independent Front and Rear
Color exterior:
Metallic Light Green
Color interior:
Suede Green
Features:
AM-FM Digital Stereo with Bluetooth
Optional equipment:
Lap/Shoulder Belts
Wheels:
Front: Jaguar E-type lightweight style wheel, 15 inch x 7 inch. Rear: Jaguar E-Type lightweight style wheel, 15 inch X 7.5 Inch
Tires:
Front: BFG radial t/a size 215/70/15; Rear: BFG radial t/a size 245/60/15
Brakes:
Front and Rear Disc brakes
Vin #:
889555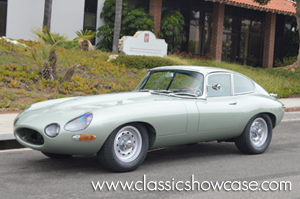 Description
The restoration to this spectacular E-Type is finished! This XKE is a very special build for a special car that has been in the process of restoration around our client projects off and on in our shop for the last few years. This early E-Type Fixed Head Coupe has had it's wheel wells flared, the front and rear bumpers removed with welded-in lines, the gas door has been replaced by a high volume pop-up chrome gas fill assembly, and we are using a new aluminum bonnet that houses recessed driving lights for a fantastic look.

Under the hood, the Coupe is powered by a 3.8 Liter engine with 10:1 pistons. In addition, it has received an Alloy Radiator (with aux. fan), a spin-on oil filter, a Mallory electronic ignition and coil, Weber carbs, custom headers, a 2-inch free-flow exhaust system (with silencers), and sound deadening inside the car. Also included on the build are mild cams, machine crank, a lightened flywheel, gear reduction starter, an upgraded 5-speed transmission, electronic ignition, and a high output battery. The Coupe has also received a set of D-type wheels to add to the overall presentation of this uniquely wonderful E-Type. This Fixed Head Coupe is the perfect choice for the collector who enjoys a faster than average cat!
History
The Series 1 was introduced, initially for export only, in March 1961. The domestic market launch came four months later in July 1961. It can be recognized by glass covered headlights (up to 1967), small "mouth" opening at the front, signal lights and tail-lights above bumpers and exhaust tips under the license plate in the rear. The Series I E-type is the most desirable of all the series with a 4 speed transmission, covered headlights, toggle switches on the dash, updated with late Series I comfortable bucket seats, center console, and arm rest. This makes the best driver and the most collectable for an investment. It is a timeless example of class and elegance joined with the strong racing history that Jaguar has become so well known for.