1969 Lancia Fulvia Coupe
Specifications

Stock:
LA69-406
Current condition:
SHOW-DRIVER
Performance:
1.3S, 1,298cc DOHV V4 Engine; approx 91bhp at 6,000rpm
Performance options:
Solex Carbs
Transmission:
4-Speed Manual
Suspension:
Independent Front
Color exterior:
Silver
Color interior:
Black
Mileage:
95,758 showing
Wheels:
Chrome Wheels with Lancia Hubcaps
Tires:
Bridgestone 8381s
Brakes:
Dunlop Disc Brakes
Vin #:
818360006406
Engine #:
818303 120111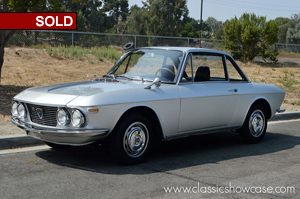 Description
This attractive Silver over Black 1969 Lancia Fulvia features a 303 series high compression engine, and was born in and has spent the majority of its life in Italy. The car's most recent owner acquired the car in 2019, and later transported it to the United States. Once arriving Stateside, the Lancia was given a comprehensive servicing by Italian car specialists who performed a full brake and fuel system service, along with the addition of new rubber door seals to the car.

Classic Showcase acquired the car in the Fall, and we performed a major comprehensive servicing and sorting of systems including electrical. In addition, we installed a new headliner, sun visors, and a new rear window package tray. Our master technicians also performed a braking system overhaul, and the engine bay, trunk, and undercarriage were fully detailed.

This is not only a wonderful looking Italian example of the late 60s but is also a lightweight performer that is simply a blast to drive on your favorite road.
History
The introduction of the Fulvia saloon in 1963 maintained Lancia's reputation for innovation in automobile design. Designed by Antonio Fessia, the boxy-styled Appia replacement featured an all-new, narrow-angle, V4, overhead-camshaft engine; front wheel drive; independent front suspension by double wishbones; and disc brakes all round. The Fulvia was described as 'a precision motor car, an engineering tour de force', and was lauded by motoring journalists as a jewel of engineering and forward thinking design, as well as being delightful to drive. A 2+2 coupe on a shorter wheelbase was launched in 1965. Though mechanically similar, the beautiful newcomer had all the visual presence its progenitor lacked and came with a 1,216cc engine producing 80bhp. In 1967 the model was up-rated with the 1,298cc, 85bhp engine, becoming the Fulvia Rallye 1.3.