1961 Jaguar-XKE Series 1 3.8 OTS
Outside Bonnet Latch
Specifications

Stock:
J61-180
Current condition:
SHOW-DRIVER
Performance:
3.8 Liter, 6 cylinder, 265 HP, 3 SU carbs
Transmission:
4-Speed manual
Suspension:
Independent Front with Torsion bars
Color exterior:
British Racing Green
Color interior:
Tan
Mileage:
1,550 since restoration
Wheels:
Chrome Wire Wheels
Brakes:
Dunlop Disc Brakes
Vin #:
875180
Engine #:
R1270-9
Gearbox #:
LB376JS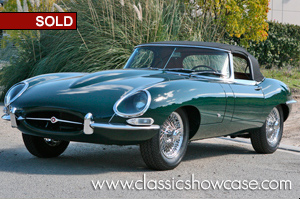 Description
(SOLD) This spectacular numbers-matching BRG over Tan first-generation XKE outside bonnet latch roadster was fully restored by Classic Showcase in 2007, and is available to collectors worldwide. These first generation E-Types offer some of the most sought-after features like flat floors and welded louvers. . This spectacular outside bonnet latch has only traveled 1,550 miles since it's restoration and has recently been serviced by Classic Showcase.

This particular roadster is number 180 in early E-type production history, is a Southern California car, and presents simply wonderful today. We performed a comprehensive rotisserie restoration to this rare XKE to that of a show-driver level, and included: a complete, documented vehicle disassembly, with the vehicle body fully worked, metal finished, fitted, and leaded as needed, with all body parts and chrome fitted to the car; It was primed, sealed, and had a base coat applied, along with receiving a clear coat, and finally color sanding and buffing to the beautiful finish you see today. All systems have been gone through and were restored and replaced as necessary. The engine, transmission, clutch, and hydraulic systems were fully restored, and the car received all new rubber, grommets and seals. The upholstery was restored by our master trimmers throughout. The roadster's parts and components have also been restored in the proper colors and finishes as well, using NOS parts wherever possible.

As with all of our early E-Type show and show-driver level restorations, strict attention to detail was being given because of the importance of this early, highly original car. An MP4 video of the restoration process, along with a Heritage Certificate of authenticity will accompany the sale of the vehicle. This first generation XKE is a sharp looking Cat that is sure to bring joy to those looking to compete, or simply to collect as a Blue Chip investment. Own the best, drive the best, and experience the excitement that only a first generation E-Type can deliver!
History
The Series 1 Jaguar XKE was introduced, initially for export only, in March 1961. The domestic market launch came four months later in July 1961. The cars at this time used the triple SU carbureted 3.8 liter 6-cylinder Jaguar XK6 engine from the XK150S. The first 300 cars built had flat floors and external hood (bonnet) latches. These cars are rare and more valuable. The outside bonnet latch is the most sought after of all the Series I E types. Only 500 external bonnet latch cars were made, of those, 385 were left-hand drive roadsters, 20 left hand drive coupes, 91 right hand drive roadsters, and 4 right-hand drive coupes. After that, the floors were dished to provide more leg room and the twin hood latches moved to inside the car.
Authenticity